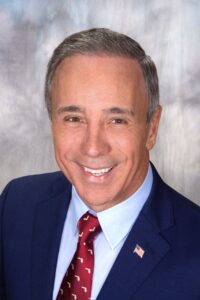 Larry Basford served the citizens of the 14th Judicial Circuit for over 34 years as an Assistant State Attorney before being elected State Attorney in August, 2020 and taking office on January 5, 2021.
Larry earned his law degree from Florida State University College of Law in late 1982 and started his career in the 7th Circuit State Attorney's Office in 1983, as the misdemeanor prosecutor in the St. Johns County office. When a spot opened up in his hometown State Attorney's Office, Larry returned to the 14th Circuit and served under three State Attorneys. He worked in the Marianna office from 1983 to 1990, before a brief tenure as a partner in a private firm. He returned to the State Attorney's Office in 1992, serving as the Chief Attorney in the Marianna office until 2004. There he tried numerous felony cases ranging from murder to sexual battery, DUI manslaughter, and drug offenses. In 2005, Larry moved to the main office in Panama City as the Chief of the Major Crimes, where his primary focus was murder cases. Larry was named Chief Assistant State Attorney in 2016.
Larry has tried over 250 jury trials. As Chief Assistant, he helped implement several innovative programs, including Veterans Court and a Construction Fraud Task Force after Hurricane Michael.
Larry is a member of the First United Methodist Church, the St. Andrews Bay Inn of Court, the Florida Prosecuting Attorneys Association, the National Rifle Association, and Ducks Unlimited. He is a Board Member of the Gulf Coast Children's Advocacy Center, a Past President of the Bay County Bar Association, a Past Chairman of the 14th Circuit Grievance Committee, and a former representative to the Young Lawyers Division Board of Governors for the Florida Bar. Larry has two children and two grandchildren who are the light of his life.