Kara Bremer, a Mitchell Hamline School of Law Dean's List Recipient, is officially the newest prosecutor for the 14th Judicial Circuit, State Attorney Larry Basford announced Monday.
Bremer was sworn in as an ASA by Basford, and sworn in as a member of the Florida Bar, at her request, by Bay County Chief Mark Graham at a ceremony attended by other SAO employees and a number of Bremer's family members who came for the event.
"I cannot imagine myself ever wanting to leave," Bremer said in applying for the Assistant State Attorney position. "The teamwork and the mutual respect that you all showed for one another are enviable and admirable qualities for any work environment, and I would love to be a part of that."
Bremer is active in her church and community and spent time as a teacher as well as watching cases in this circuit and working for a private attorney in Marianna.
RELATED STORIES
Josh James Sworn in as new ASA
Investigator Dave Edmondson retires
"Kara has an extremely strong work ethic that is not only exhibited in her work life, but in her personal life as well, Shalene Grover wrote in a letter of recommendation. "The tenacity and discipline that she exhibits in her life is rare."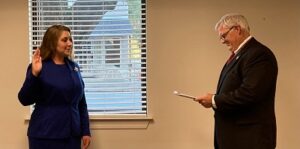 Bremer will work misdemeanor cases in Bay County.
For additional information contact Mike Cazalas at mike.cazalas@sa14.fl.gov.