Sentencing for a man who had been out of prison less than two months when deputies were called to a disturbance involving him, a short-barreled shotgun and his grandmother is set for Jan. 21, State Attorney Larry Basford announced.
William Walter Cambley, III, 29, was found guilty Dec. 8 of possession of a short-barreled shotgun and improper exhibition of a firearm after a day-long trial.
Prosecutor Lynelle Dowe is seeking to have Cambley sentenced as a Habitual Offender, which would enhance the penalties the defendant faces at sentencing.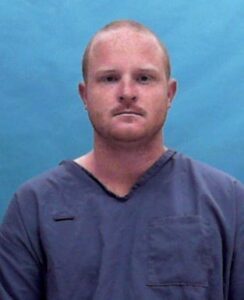 The defendant has previous convictions for sale/manufacture/distribution of Methamphetamine, and being a felon in possession of ammunition and fleeing and attempting to elude with high speeds/reckless driving. He was released from prison on the latter charge Jan. 22, 2020, about 6 weeks before his arrest in this case.
RELATED NEWS: 6-minute guilty verdict, 3 life sentences for child sex abuser
RELATED NEWS: Contractor guilty of taking money, not performing hurricane repairs
At trial, Dowe and co-prosecutor Jacob Cook presented witnesses and evidence that after the defendant's release from prison in 2020, he lived in a trailer on his grandmother's property. During an argument March 5, 2020, testimony showed the defendant became angry and headed out the door, yelling at the dog while the victim attempted to retrieve it.
Testimony revealed the defendant grabbed a shotgun, "cocked" it, then pointed it in his grandmother's direction while saying there were three shells in the gun – one for her, one for the dog and one for his mother.
BCSO Sgt Edward Jared Turner was first on the scene, followed by former Bay County Sheriff's Deputy Montrez Potter and Department of Fish and Wildlife Officer Matthew Gore.
According to testimony, a perimeter was established, a K-9 was deployed, Cambley was found and arrested, and the K-9 also found the shotgun. BCSO Cpl. Matthew Kutcher test-fired the shotgun and testified it was operable.
For additional information contact Mike Cazalas at mike.cazalas@sa14.fl.gov or 850-381-7454.