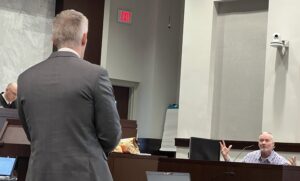 A judge sentenced Jeremiah Beazley to Life in prison Friday, one day after a jury took about 40 minutes to find him guilty of murder, State Attorney Larry Basford announced.
Beazley, 46, was found guilty-as-charged Thursday of Second-Degree Murder with a Firearm and Felon in Possession of a Firearm after a two-day trial for the March 31, 2021 shooting death of Bryan Thomas Anderson. He was facing 25 years to Life in prison under Florida's 10-20-Life Statute.
"This is probably one of the most well-known criminals in this area," Prosecutor Peter Overstreet told Circuit Judge Dustin Stephenson in asking for a Life sentence Friday. "I think just about everything that could be done to try and correct that have been tried and have failed."
Overstreet said the only way to protect people from the defendant was for him to be kept in prison, which is what members of the victim's family also requested.
"It's clear to me that Mr. Anderson was well-liked and loved by all who knew him," Judge Stephenson said to the defendant before sentencing him to Life in prison. "What's also abundantly clear … is Mr. Anderson is no longer with us and he's no longer with us because you killed him."
Overstreet called 13 witnesses ranging from the victim's wife and a juvenile who was in the Southport trailer when the victim was shot, to 5 Bay County Sheriff's Office deputies and 4 Florida Department of Law Enforcement experts.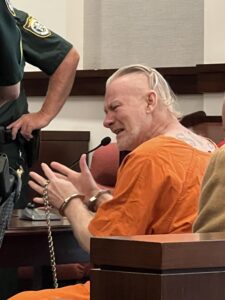 The testimony and evidence proved that the victim had given the defendant a place to stay, and that the two were friends although they sometimes argued about what they believed were governmental conspiracies.
The morning of the shooting, the victim, who lived a short distance away, walked to the trailer where the defendant was staying and went into his bedroom. The The other occupants of the trailer who testified said they could hear the two talking, but did not hear raised voices or any indication of a scuffle or fight.
They testified they were not concerned until they heard gunshots from the bedroom. The defendant left the bedroom without explanation, got into the passenger's side of a car that was leaving the residence and hid the gun at a nearby park. The victim was found in the bedroom shot twice, once in the back. The defendant was captured later that day by Bay County sheriff's deputies.
Basford thanked the Sheriff's Office for its work in capturing the defendant so quickly and the case it put together, as well as the FDLE for its expert testimony that included findings that the defendant was under the influence of methamphetamine at the time of the shooting. The victim had no intoxicants in his system.
For more information, contact Mike Cazalas at mike.cazalas@sa14.fl.gov, or call 850-381-7454.