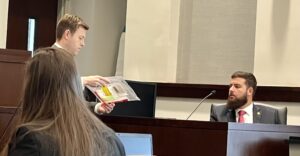 Six jurors needed only 14 minutes Tuesday to find a man guilty of Trafficking in Methamphetamine (200 or more grams) and three other charges, State Attorney Larry Basford announced.
Prosecutor Dustin Miller called only three witnesses – the two Bay County Sheriff's Office investigators and a Florida Department of Law Enforcement analyst to prove the case against 53-year-old Ronnie Michael Taylor. He was found guilty of the trafficking charge, and Possession of a Controlled Substance, Fleeing and Attempting to Elude police, and Tampering with Evidence.
Circuit Court Judge Timothy Register sentenced the defendant to 30 years in prison. Under Florida's enhanced drug trafficking Statutes, the defendant faced at least a 15-year minimum-mandatory sentence and was also fined $250,000.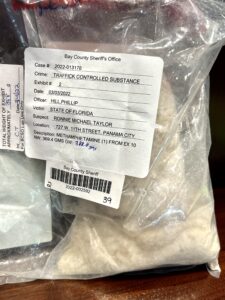 "The defendant was caught red-handed with nearly 400 grams of methamphetamine while he was on felony probation," Miller said. "He threw 360 grams out of the vehicle as he fled from law enforcement. The jury held the defendant accountable for his actions."
BCSO Inv. Phillip Hill attempted to stop the defendant's vehicle near Florida Avenue and 11th Street for an expired tag on March 3, 2022. The defendant kept gesturing out the window as if he was going to stop but kept driving. They went through a parking lot before hitting Florida Avenue, where Sheriff's Office Sgt. Steve Cook, who had been nearby, joined in.
RELATED NEWS: Habitual offender status increases prison term for child abuser
RELATED NEWS: California drug trafficker headed to FL prison
The defendant turned into an apartment complex, followed by Cook, while Hill sped around to the other end of complex where the parking lot emptied onto 11th Street. The two sandwiched the defendant's vehicle and he stopped. They found about 36 grams of methamphetamine in the car. The defendant ultimately told them he had thrown out a larger bag during the pursuit and pointed out where it was. Deputies recovered about 360 grams of methamphetamine from that baggie.
"The Sheriff's Office takes these trafficking cases seriously and so do we," Miller said. "Working together, those drugs never made it into the hands of users and this defendant won't be peddling anything in our community in the foreseeable future."
Basford thanked the Bay County Sheriff's Office for another case of proactive work that intercepted a large quantity of drugs.
For more information, contact Mike Cazalas at mike.cazalas@sa14.fl.gov, or call 850-381-7454.