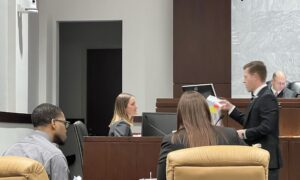 Three Bay County residents convicted of trafficking in large amounts of drugs in unrelated cases were sentenced to prison terms ranging from 15-25 years under Florida's enhanced drug laws, State Attorney Larry Basford announced. Two were on the verge of trial before entering pleas today, while the third was found guilty by a jury.
Friday, as her trial was set to begin, Jessica Ann Heath, 37, of Panama City Beach, entered an open plea of guilty to Trafficking in Amphetamine (200 grams or more), Transporting a Controlled Substance into the State, and two misdemeanors. An open plea means the sentence was left to Circuit Court Judge Dustin Stephenson. Judge Stephenson sentenced her to 17.5 years in prison with a 15-year minimum/mandatory.
Also Friday, Todd Ware, 49, of Panama City, pled no contest to Trafficking in Fentanyl, Possession of Amphetamine, Resisting Arrest with Violence, and Possession of Paraphernalia. His trial was scheduled to begin Monday. He was adjudicated guilty by Circuit Court Judge Shonna Gay, designated a Habitual Felony Offender, and sentenced to a minimum/mandatory 15 years in prison under Florida's enhanced drug trafficking laws.
On Wednesday, a jury took only 30 minutes to find Loviko Howard Jr., 30, of Panama City, guilty as charged of Trafficking in Fentany (14 grams or more but less than 28 grams). Judge Stephenson sentenced the defendant to 25 years in prison with a 7-year minimum/mandatory.
Prosecutor Dustin Miller presented the case against Howard and was set for Heath's trial Friday before her last-minute plea.
"Our office has stated that we are committed to keeping Bay County citizens safe from these drugs and drug traffickers, and we mean it," Miller said of the two cases. "We will continue to vigorously prosecute these crimes."
All three cases involved arrests by the Bay County Sheriff's Office.
In Heath's case, Miller was prepared to call witnesses and present evidence that Sheriff's Office investigators battling drug importation developed information that the defendant would be traveling out of state and returning with a large amount of methamphetamine on Feb. 4, 2023. The defendant did not have a valid driver's license and her vehicle was stopped as it returned to Bay County.
Sheriff's Office K-9 Fila alerted to the presence of narcotics in the vehicle and the defendant admitted deputies would find some marijuana.
But a thorough search also turned up a large package that was hidden in the rim of the spare tire, which was attached to the bottom of the defendant's van. It contained about 224 grams of methamphetamine.
In Ware's case, set for trial Monday, Prosecutor Zach VanDyke was prepared to prove that Sheriff's Office Inv. Phillip Hill knew the defendant had a warrant out for his arrest and spotted him walking toward his residence Jan. 21, 2021.
The defendant ignored commands to stop and during the struggle that ensued with Hill, four baggies containing a powder substance flew out of the defendant's jacket. Four other investigators joined the struggle and were able to handcuff the defendant. The four baggies were found to contain about 24 grams of Fentanyl. A baggie found during a search of the defendant held 7 grams of methamphetamine.
In Howard's case, Prosecutor Miller presented evidence that Sheriff's Office deputy Thomas Young was responding to a call when he found Howard and a co-defendant passed out in a vehicle in the parking lot of a local business.
Young was able to awaken the defendant after knocking on the window. A probable cause search of the vehicle turned up a number of illicit items, including an open safe in the back seat that held multiple packages of fentanyl and ID cards in the defendant's name.
The defendant was placed in a patrol vehicle, where in-car cameras captured him trying to hide baggies with blue, brown and black substances in them. The substances tested positive for fentanyl.
Basford thanked the Sheriff's Office for its work in intercepting the drugs before they were available on the streets. Miller said their work helped lead to pleas.
"They put together (Heath and Howard) those cases in a manner that made our work easy," Miller said. "They are consummate professionals."
For more information, contact Mike Cazalas at mike.cazalas@sa14.fl.gov, or call 850-381-7454.