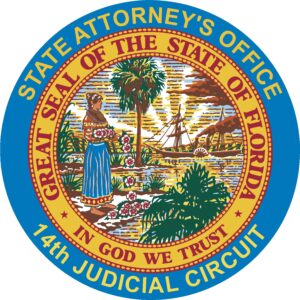 A Tallahassee man found guilty of trying to bribe a deputy who took him into custody, and then threatening to kill him and his family when that failed has been sentenced to 4 years in prison, State Attorney Larry Basford announced.
A Bay County jury deliberated about an hour Wednesday before finding Marcus Anthony Campbell, 39, guilty as charged of Bribery of a Public Servant and Corruption by Threat Against a Public Official. Circuit Court Judge Brantley Clark sentenced the defendant to 48 months in prison.
Prosecutor Josh James called one witness – the victim, Bay County Sheriff's Office Dep. Jacob Navarro – to prove his case.
RELATED NEWS: PC man guilty of shooting clerk during attempted robbery
RELATED NEWS: Heroin trafficker avoids trial, gets 25-year prison sentence
Navarro's testimony and the evidence showed the deputy was called to a beach bar on Dec. 27, 2022, around 2:30 a.m. in reference to a disturbance. As a result, the defendant was taken into custody and placed in the back of Navarro's patrol car.
On the ride to jail, the defendant offered Navarro $10,000 to let him go. When that was ignored, the defendant offered $20,000, then $50,000, to Navarro.
When Navarro refused the bribes, the defendant then began threatening him. Eventually the defendant said that since the deputy refused the bribe, he was going to find him and his family and shoot all of them together. "I guarantee … y'all gonna die," he told Navarro.
The defendant was on probation at the time for False Imprisonment and Felony Battery.
Basford thanked the Sheriff's Office for its work on the case. He said it is an example of what law enforcement officers endure on the job that will not be tolerated.
For more information, contact Mike Cazalas at mike.cazalas@sa14.fl.gov, or call 850-381-7454.