A woman seeking leniency after being found guilty of hitting her victim in the back of the head with a cinder block, was instead sentenced to 7 years in prison Tuesday after the judge said the state's case and jury's verdict showed the assault could have been avoided, State Attorney Larry Basford announced.
Rachel Dianne Ladner, 34, who had been living in Marianna prior to the July 2017 attack, was found guilty of Attempted Second-Degree Murder after a one-day trial Sept. 30.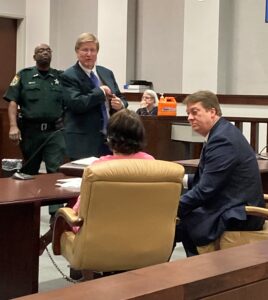 The defendant was found guilty of hitting the victim in the back of the head with a cinder block outside his home, leaving him there, and returning inside to spend the night in his bed.
At Tuesday's sentencing before Circuit Court Judge Chris Patterson, Prosecutor Elizabeth Magee, who presented the case at trial, asked for a sentence of between 6 ½ and 10 years.
"Sitting here today, it struck me as somewhat frustrating Ms. Ladner's lack of remorse and refusal to accept the jury's verdict," Magee said. She noted the blow was severe enough that in addition to the physical injuries – a large cut on the back of the victim's head behind his right ear, which was split open, a swollen eye and bruises – it knocked out and broke the victim's dentures.
The defendant's father and two friends spoke on her behalf, asking for leniency. The defendant also addressed the court, seeking a lesser sentence.
Defense attorney Dana Morris and the defendant contended she was trying to get away from the victim because he had become aggressive.
OTHER NEWS: Meth trafficker hit with 25-year sentence Tuesday
OTHER NEWS: Callaway man sentenced for Lewd and Lascivious Exhibition
But Judge Patterson found the state's case was clear, as were Ladner's actions that night.
Patterson said the defendant, who worked at a club in Panama City while living in Marianna, essentially invited herself into the victim's home on a night she was not working.
"Now, whatever happened inside, the jury does not believe your version of events," Judge Patterson said. "But the crux of it is this: that you were leaving that house and the testimony that you gave was that the victim fell down and you struck him once with the cinder block.
"And instead of dropping that cinder block and running away, you struck him a second time while he was down and unable to defend himself," Judge Patterson continued, noting the defendant went back inside after the attack and slept in the victim's bed.
"I recognize that most people who come before this court have had a real bad day," Patterson said. "But that real bad day has a consequence."
For additional information contact Mike Cazalas at mike.cazalas@sa14.fl.gov or (850) 381-7454.