A Bay County jury took less than an hour Tuesday to find a man guilty of Sexual Battery on a Person Less Than 12 Years of Age, and Lewd or Lascivious Molestation, State Attorney Larry Basford announced.
Rene Elmer Rivas, 53, is scheduled for sentencing before Circuit Court Judge Timothy Register on July 15. He faces life in prison.
Prosecutor Frank Sullivan presented evidence and witnesses including the victim, the Bay County Sheriff's Office and Gulf Coast Children's Advocacy Center proving that the victim was sexually assaulted by the defendant when she was about 7 years old, and that it happened more than once in 2013-14.
The victim testified she did not immediately report the sexual battery out of fear, embarrassment, and the uncertainty of what to do, and instead tried to "act like everything was normal."
"I was scared," she told jurors. "I was a little girl, I didn't know what was going on."
Another witness testified she was in church with the victim several years later when something "triggered" the victim and she began crying uncontrollably.
She said the victim told her what had happened, and she urged her to tell her mother, which she did that night. The victim said that was the first time she had ever talked about it to anyone. The mother said she initially could not believe it had happened but did ultimately contact the Bay County Sheriff's Office.
BCSO Lt. Christian Williams, the case agent, said he watched as the GCCAC conducted a forensic interview with the victim. The interviews are conducted by people trained in dealing with juvenile victims of abuse, and the victim disclosed the abuse. A physical examination confirmed the abuse.
Williams testified that he then interviewed the defendant, who denied committing the acts but also refused to say the victim was lying. Williams said he took the defendant into custody based on the evidence gathered.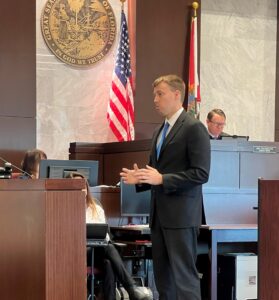 In his closing arguments, Sullivan asked jurors to look at the evidence presented by the state and the defense and decide which made more sense. He submitted the state's case simply made more sense.
"I submit to you he had an opportunity today again when he took the stand he was asked, 'Was she lying?'" Sullivan continued. "What was his response? 'I don't think so.' I want you to ask yourself, does that make sense?"
Basford thanked the GCCAC and Bay County Sheriff's Office for its work on the case and the evidence they gathered for trial, as well as the witnesses who testified.
For more information, contact Mike Cazalas at mike.cazalas@14sa.fl.gov, or call 850-381-7454.