Sentencing is set for July 15 for a man found guilty Thursday of transporting nearly 3,000 grams of methamphetamine from Georgia to Bay County, State Attorney Larry Basford announced.
Jerry Ray Walker, of Carrollton, Ga., was found guilty as charged of Trafficking in Amphetamine (200 grams or more) after about an hour of deliberation by a Bay County Jury. Circuit Judge Timothy Register presided over the case and ordered a pre-sentencing investigation.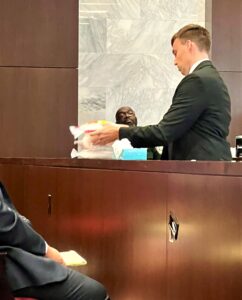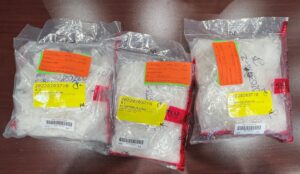 Under Florida trafficking Statutes, the defendant faces a minimum-mandatory sentence of 15 years, and a maximum sentence of  30 years.
Prosecutor Frank Sullivan presented evidence and witnesses, including the Bay County Sheriff's Office investigators who got the tip about the shipment and made the arrests, proving that the defendant knew he was transporting a duffle bag full of methamphetamine to Florida in March, 2021.
Evidence and witness testimony showed the defendant drove a friend to a location near their Georgia homes on March 8, 2021, and a relative of the defendant walked out and handed a duffel bag to the passenger and told him to call when "it was done."
RELATED NEWS: Man found guilty of sexually battering young girl
RELATED NEWS: "Road rage" shooting that left man crippled results in 40-year sentence
The defendant claimed his friend had a broken windshield and asked him to drive them that night to Panama City and back in exchange for giving him meth to smoke on the trip. The defendant testified he knew his relative dealt drugs, but claimed he thought the duffel bag was filled with money, not 6 pounds of methamphetamine.
Prosecutor Sullivan said the story was highly improbable, and contrary to the evidence and common sense.
"Inside that blue duffel bag there were three 1-gallon bags full of methamphetamine, and there is no doubt the defendant brought 6 pounds of meth into the State of Florida," Sullivan told jurors. "You have to decide if he thought that was money or if he knew that was drugs. Use your common sense, your life knowledge."
Sheriff's Office investigators Doug Cumming and Steven Cook said they received a tip that a large amount of methamphetamine was coming into Bay County that night and had information about the vehicle but not about who would be in it.
The vehicle was spotted around 1:30 a.m. March 9 and an investigative stop was made. Cumming said he deployed his drug-detecting K9 and it alerted on the vehicle, which led to the discovery of the drugs.
Cumming testified that the defendant claimed he thought the bag was filled with money, but "ultimately he admitted he knew it was a drug transaction."
Basford thanked the Sheriff's Office for its proactive approach that prevented many thousands of doses of meth from hitting the streets here, Cumming and Cook for their work on the case, and the Florida Department of Law Enforcement's Jeremiah Bortle, who tested the seized drugs and testified.
For more information, contact Mike Cazalas at mike.cazalas@14sa.fl.gov, or call 850-381-7454.