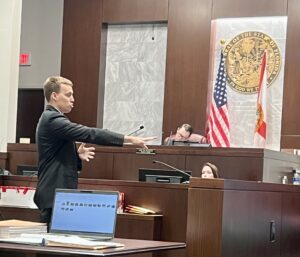 A Bay County jury Friday convicted two men of attempting to kill three people who they shot at while chasing them across northwestern Bay County at speeds surpassing 100 mph, State Attorney Larry Basford announced.
Jordan Cayne Hutchinson, 22, and Chase Sonny Chavez, 21, were found guilty of three counts each of Attempted Second Degree Murder. On each of those counts, the jury found Hutchinson "actually possessed and discharged a firearm" during the crime, while Chavez was found to have possessed a firearm at the time.
RELATED NEWS: Man awaiting sentencing for sexually battering two teens
RELATED NEWS: Life without parole in Beach murder
The defendants were tried together with separate attorneys but one jury. Under Florida's 10-20-Life Statute, Hutchinson faces a minimum-mandatory 20-year prison sentence on each of his Attempted Second Degree Murder charges, while Chavez faces a minimum-mandatory 10-year sentence on each of his.
Additionally, both men were found guilty of Shooting into an Occupied Vehicle, and Hutchinson was also convicted of Aggravated Assault. Any sentences handed down on those charges would have to be served separately from the 10-20-Life sentences.
Prosecutors Frank Sullivan and Jae Hee Kim presented evidence and witnesses, including the three victims and investigators from the Bay County Sheriff's Office, proving the state's case. The jury took about 90 minutes to reach its verdict.
Sullivan told jurors they heard a lot of evidence from multiple witnesses about the shotgun blasts fired in a median along State 79 and then an ensuing chase and more shots on County 388 to the airport and back. A shotgun and a rifle were recovered from the defendants' vehicle, along with spent shells.
"But at the end of the day, it doesn't matter which one of the defendants pulled the trigger each time and which was the driver," Sullivan said. "They both participated and they both wanted this to happen. They are principals."
Testimony elicited by Sullivan and Kim showed there had been a party late the night of July 3, 2019, that went past midnight. As it broke up, some went to a convenience store at State 79 and Hwy. 388 – including the defendants and the victims.
An argument began between one of the victims, who was a passenger in a truck, and one of the defendants who was in a Jeep. Words were exchanged but the victims left without incident.
One victim, who was a passenger in the truck, said they pulled onto State 79 and then into a cut in the median to make a U-turn south back into town when the Jeep, and the defendants, came "sliding" in behind them.
He testified he got out of the truck thinking there might be a fight, but Hutchinson jumped out of the Jeep holding and then cocking a shotgun. He said he ran behind his truck for cover, but Hutchinson fired a shot at him and came around the other side of the truck. "(Hutchinson) had that shotgun cocked right in my face," he testified.
The victim said he grabbed the barrel of the shotgun, they wrestled over it, and it went off again before he was able to jump back in his truck – which had the other two victims in it – and flee east on County 388 trying to get away.
He told jurors he was going well over 100 mph but the defendants kept pace, and kept firing. One projectile pierced the rear window and rearview mirror before striking the windshield, narrowly missing one of the passengers.
Near the airport, he testified, he made a U-turn and sped back toward State 79 and then Panama City Beach. One of the victims was on the phone with 911 and another with his stepdad, at the time a Beach police officer, and they found that officer near the Panama City Beach Police Department.
"Let me tell you what, I was scared," the victim said, recapping the night. "It still gives me … I don't even like to think about it."
Hutchinson and Chavez were located a short time later in the Jeep and the two weapons recovered.
For more information, contact Mike Cazalas at mike.cazalas@14sa.fl.gov, or call 850-381-7454.