PORT ST. JOE – A Gulf County jury Friday took less than 10 minutes to find a man guilty of leading police on a chase that included jumping train tracks from an access road, and the judge sentenced him to 8 years in prison, State Attorney Larry Basford announced.
Rasha Cummings, 30, of Port St. Joe, was sentenced by Circuit Court Judge Devin Collier following Friday's verdict. He was also ordered to pay $1,008 in fines and court costs.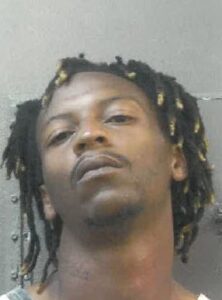 Gulf County Chief Prosecutor Tracy Smith presented evidence and witnesses, including the officer who attempted the traffic stop on the defendant Oct. 4, 2021, to prove the State's case. Fleeing to Elude a Law Enforcement Officer (Siren and Lights Activated with High Speed or Reckless Driving), is a second-degree felony.
RELATED NEWS: 2 guilty of attempted murder during northwestern Bay County party, chase
RELATED NEWS: Man guilty of sexually battering 2 teens
According to the evidence, Port St. Joe Police Lt. Russell Burch was on duty Oct. 4, 2021, when he spotted a truck approaching him at more than 45 mph in a 20 mph zone residential neighborhood. Burch said he attempted a traffic stop but the driver sped away when he activated his emergency lights.
Lt. Burch called for backup as the defendant continued through a residential area at speeds of up to 60 mph, running multiple stop signs before turning onto an access road that ran parallel to the railroad tracks.
The vehicle crossed the tracks several times as it approached State 71 before the passenger jumped out of the fleeing vehicle into a ditch. Lt. Burch and another officer wrestled with and detained the passenger.
The vehicle continued for about 100 more yards before encountering Gulf County Sheriff's Office Capt. Chris Buchanan, who had positioned his vehicle on the access road. The defendant abandoned the truck, leaving it in gear, and fled into the woods.
Gulf County Sheriff Mike Harrison captured the defendant a short distance away.
Basford thanked Lt. Burch and Sheriff Harrison for their actions that day and noted how the two agencies worked together in a rapidly developing situation to apprehend the suspects.
For more information, contact Mike Cazalas at mike.cazalas@14sa.fl.gov, or call 850-381-7454.