BLOUNTSTOWN – An Altha man who pled no contest to sexually assaulting a young girl will spend the rest of his life in prison, State Attorney Larry Basford announced.
Shane Whitfield, 53, entered an open plea of No Contest to Lewd and Lascivious Molestation and Lewd and Lascivious Conduct. The defendant admitted to sexually assaulting the child over a 2-year-period in 2019-20. An open plea means there was no agreed-upon sentence.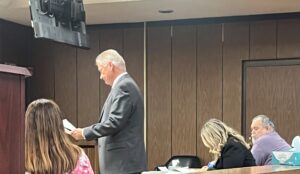 Thursday, based on the evidence Calhoun County Chief Prosecutor William Wright was prepared to present from the Calhoun County Sheriff's Office and the Department of Children and Families' Child Protection Team, Chief Circuit Court Judge Chris Patterson sentenced the defendant to life in prison without the possibility of parole. He was also designated a Sexual Predator.
The defendant, his attorney, mother, and sister all asked the court for leniency, saying the defendant pled in part to spare the victim from trial and that his parents suffer serious health issues.
RELATED NEWS: 9 Life sentences for man who videotaped sexual assaults on child
RELATED NEWS: High-speed pursuit in PSJ lands man in prison
The victim's mother, however, asked for more. In her prepared statement, she said her child is afraid to go outside, afraid to use a restroom by herself in public, has frequent nightmares and remains "terrified."
"She has severe anxiety from the trauma that he caused," she said. "She has frequent nightmares that affect her sleep and her daily living. Hearing her cry at night because of the nightmares breaks my heart.
"(She) will get through this because she is a strong child," the mother continued. "But the limits he has put on her, at times are so severe, that there are days that I don't know if she will make it."
Prosecutor Wright argued that while he understood Judge Patterson must consider those things, that the defendant's previous history and the damage done to the 7-year-old victim in this case were more serious considerations.
"Judge, to look at the damage done to this child … it's just horrible," Wright said. "He needs to be sentenced and placed somewhere where he doesn't have access to any children for the rest of his life."
Basford thanked the Calhoun County Sheriff's Office and Inv. John Scheetz for their work on the case, as well as the Department of Children and Families' Child Protection Team.
For more information, contact Mike Cazalas at mike.cazalas@sa14.fl.gov, or call 850-381-7454.