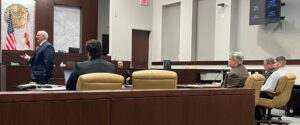 A jury Thursday took about 4 hours to return guilty verdicts against a man charged with First Degree Felony Murder and Attempted Armed Robbery in the 2019 killing of 30-year-old Edward Ross, according to State Attorney Larry Basford.
Jurors found that Abel Ortiz, 19, was armed when he and two others rushed into Ross' house in an attempt to rob him Dec. 29, 2019, and that he actually killed or was attempting to kill the victim when he shot him. Those special findings mean the defendant, a juvenile at the time of the shooting, faces a sentence ranging from 40 years (with the first 25 years being served day-for-day), up to Life in prison. Circuit Court Judge Shonna Young Gay set sentencing for Nov. 8.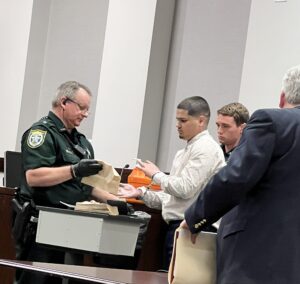 Bay County Chief Prosecutor Mark Graham thanked jurors for their time and attention to the case, as well as the Bay County Sheriff's Office for its intense 6-week investigation that led to the arrests of 5 people and the SAO staff for the work that went into preparing the case.
"This was not a simple case to for the Sheriff's Office to put together, it was not a simple case to prosecute, and we are very grateful to everyone who worked for this outcome," Graham said. "Justice was served today both for the victim's father and the community."
Two co-defendants who admitted to their roles in the case have entered pleas and both testified against Ortiz. A fourth defendant was sentenced to Life in prison after being found guilty of Felony First Degree Murder.
RELATED NEWS: Meth in underwear at jail leads to 5-year prison sentence
RELATED NEWS: Meth trafficker gets 25-year prison sentence, $150,000 in fines
Graham presented evidence and witnesses proving that a plan was hatched in December, 2019, for the defendants to go to the victim's home and rob him of money and marijuana.
The defendant, armed with a .22-caliber pistol, knocked on the victim's door, then followed two armed co-defendants as they rushed into the home. There was a confrontation between the first gunman and the victim, who had just left the shower and was wearing a towel, and witnesses said the first shot was fired.
The evidence showed all three men fired a total of 11 shots, with seven of them coming from Ortiz' .22-caliber pistol. The final shot was a .22-caliber bullet into the victim's back as he lay on the floor.
The gunmen ran to waiting vehicles and fled the area. Sheriff's Office investigators pieced together the case over a 6-week period, traveling across the Panhandle, before arresting Ortiz and the co-defendants in February, 2020.
In addition to the testimony of two co-defendants, evidence showed that before his arrest the defendant told a teacher he had killed a man on the Beach and when she didn't believe him he provided details. The defendant also told another witness what had happened, as well as giving a statement to Sheriff's Office investigators admitting what he had done.
"I've been doing this for a long time," Graham told jurors in in his closing argument. "And I've never had a case where I had not one, not two, but three confessions from the defendant. If you look at the admissions, this defendant admitted to intimate details of this crime. How would he know, it wasn't out to the public? Because he was there."
For additional information, contact Mike Cazalas at mike.cazalas@sa14.fl.gov, or call 850-381-7454.