CHIPLEY – A man charged with intimidating his victim to drop charges in two cases against him was convicted of Tampering with a Witness Monday and could face Life in prison, State Attorney Larry Basford announced.
A Washington County jury took 19 minutes to find Mitchell Brigham, 36, of Chipley, guilty of Tampering with a Victim and Violation of Conditions of Pretrial Release. Chief Circuit Court Judge Christopher Patterson set sentencing for Nov. 7.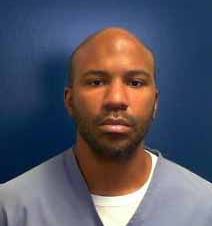 The defendant was in jail on various charges, including arrests in February and in March for Aggravated Battery (Pregnant Person) involving the same victim, when the latest offense occurred.
RELATED NEWS: 4 Life sentences + 125 years for sex offender
RELATED NEWS: Drug trafficker faces possible Life sentence after guilty verdict
Washington County Chief Prosecutor Megan Ford presented three witnesses, including the victim, and evidence included recorded phone calls from the defendant in jail to the victim.
State Attorney's Office Investigator John Pettis was one of those witnesses. Pettis found that the defendant had called the victim some 50 times from jail between his March 29 arrest and April 5. On the calls that connected, the defendant and victim spoke a total of about six hours. The defendant told the victim to drop the charges. He explained in detail how to drop the charges, and how to provide him with proof that she had dropped the charges.
The victim did attempt to drop the charges but testified at trial it was only because of the defendant's intimidation in the phone calls.
Aggravated Battery on a Pregnant Person is a Second-Degree Felony, punishable by up to 15 years in prison. Under Florida Law, Tampering with the Victim or Witness in a Second-Degree Felony is a First-Degree Felony offense, with a penalty of up to 30 years in prison.
Additionally, Ford is seeking to have the defendant sentenced under Florida's Habitual Felony Offender law. If successful, the defendant faces up to life in prison.
The defendant has a lengthy criminal history that includes four prison sentences dating back to 2004, and it includes a previous conviction for Tampering with a Witness/Victim. He still faces trial on the February and March charges of Aggravated Battery (Pregnant Person).
Basford credited Ford on her successful prosecution involving a repeat victim and Pettis for finding the phone calls that showed the defendant was tampering with the victim.
For more information contact Mike Cazalas at mike.cazalas@sa14.fl.gov or call 850-381-7454