A Nov. 8 sentencing is set for a man found guilty of possessing with intent to distribute a controlled substance that the body turns into GHB, also known as "Scoop" or "Water."
State Attorney Larry Basford said John Virgil Murphy, Jr., 46, of Panama City, was found guilty of Sale or Possession of a Controlled Substance with Intent to Distribute, and Possession of Drug Paraphernalia on Thursday.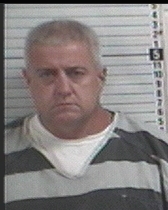 A Bay County jury took 1 hour and 23 minutes to return the verdict. Circuit Court Judge Dustin Stephenson set sentencing for Nov. 8. The defendant faces up to 15 years in prison.
RELATED NEWS: Tampering with Victims could mean Life sentence
RELATED NEWS: Drug trafficker faces possible Life sentence
Prosecutor Dustin Miller called four witnesses and presented evidence showing the defendant was in possession of a large quantity of 1,4 Butanediol, an industrial chemical designed to make floor stripper and paint thinner, as well as some types of plastics and similar materials.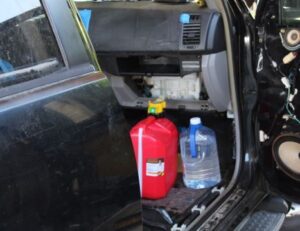 Florida Statutes define 1,4 Butanediol as a Schedule 1 drug, meaning it has a high potential for abuse and no currently acceptable medical use. When ingested, the chemical quickly turns into GHB, also known as "Scoop," and can cause overdoses and death even in small doses.
Following the verdict, Prosecutor Miller said the case reiterates that authorities will not tolerate "the poison that drug dealers are bringing into our community."
"And when it comes to the Butanediol, this is a particularly dangerous poison because it not only causes overdoses, it can be used as a 'date-rape' drug," Miller said. "So it's not only fueling an addiction, it could be helping someone in furthering more heinous crimes."
Testimony, including case agent Inv. Gage Cowart of the Bay County Sheriff's Office, showed authorities surveilled the defendant at a Panama City home for about 3 weeks in 2021. They obtained and served a search warrant on April 7, 2021.
Among the items found was a gasoline can containing approximately 2.2 kilograms of 1,4-Butanediol in the floorboard of a truck the defendant had been seen in and working on several times. That is about 1,100 doses. In a statement to authorities, the defendant admitted the liquid was his, saying he bought it online and planned to distribute it in Bay County.
Basford thanked the Sheriff's Office and investigators Cowart, Jeremy Head and Doug Cummings for their work in obtaining the search warrant and their subsequent testimony.
For more information, contact Mike Cazalas at mike.cazalas@sa14.fl.gov, or call 850-381-7454.