BLOUNTSTOWN – A case that stretched over 4 years ended Friday when a jury took just over an hour to convict Dan Belc of murdering his wife in 2018 after she filed for divorce and refused his demands for reconciliation.
Belc was found guilty of First-Degree Murder for killing Judith Belc, as well as Aggravated Assault for waving his gun at the victim's brother, who was coming to her aid behind the family's home, and threatening to shoot him. Chief Circuit Court Judge Christopher Patterson ordered Belc held in the Calhoun County Jail until sentencing, at which time he faces Life in Prison without the possibility of parole.
"Northwest Florida is a good place to live, but when tragedies happen, we make sure that justice is served," State Attorney Larry Basford told a large gathering of Judith Belc's relatives in the courtroom after the verdict. "We could not have done this without your help."
"Thank you for everything," responded Judith Belc's brother, Robert Yoder Jr., who was also a witness in the case. "We appreciate the work and how much everyone involved cared."
Calhoun County Chief Prosecutor Bill Wright, who led the prosecution team, said he was pleased that a verdict in the week-long trial was returned in about 70 minutes.
"It's amazing how often they get it right," he said of the duties given to jurors. "We could not have done this without the help of the Calhoun County Sheriff's Office, the FDLE, the Jackson County Sheriff's Office, the staff here at the State Attorney's Office and the family.
"And I am looking forward to the defendant spending the rest of his life in prison and the family finally getting justice."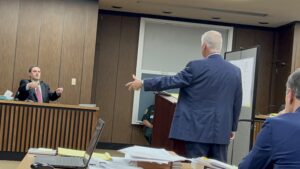 Within hours of the shooting and before he was in custody, the defendant admitted to multiple people that three bullets he fired from his .45-caliber pistol struck Judith Belc – two in the head and one in the torso. At trial, the defendant testified that he "snapped" and fired in the "heat of passion" without realizing what he was doing.
But there was no evidence to support that claim. The evidence and roughly 20 witnesses called by the State proved that the defendant killed his wife in anger because, after two dozen years of being able to "control" her, she had made up her mind to go through with a divorce.
RELATED NEWS: Sexual Predator sent to prison
RELATED NEWS: "Scoop" dealer faces prison
The Belcs and four of their children were living in Germany, where the defendant worked, when the victim returned to their Tallahassee home to get away from her husband a few weeks before the shooting. When he flew overseas and showed up there, they left for her family's home just outside Blountstown, where the shooting later occurred.
Dr. Greg Prichard testified that it boiled down to the defendant losing control.
"That domestic situation was not going his way and ultimately he made a decision, 'If I can't have her, nobody can,'" Prichard said.
After the shooting, the defendant drove around for hours making phone calls with his wife's body in the trunk. In recorded phone conversations he told family members and a 911 operator that he shot his wife three times because she was divorcing him. At the urging of family members and the 911 operator, he turned himself in at the Jackson County Sheriff's Office that morning, the body still in the trunk
For additional information, contact Mike Cazalas at mike.cazalas@sa14.fl.gov, or call 850-381-7454.