CHIPLEY  – A Washington County jury Wednesday listened to a woman describe being shot by her husband, then took about an hour to find him guilty of Attempted Second Degree Murder, State Attorney Larry Basford announced.
Dennis Alan Berrigan, 71, of Vernon, was sentenced to 20 years in prison by Chief Circuit Court Judge Christopher Patterson. Under Florida's 10-20-Life law, the crime was elevated to a first-degree felony and the first 10 years of his sentence are minimum-mandatory.
Washington County Chief Prosecutor Megan Ford called three witnesses for her case – the victim, and Sgt. Duran Harrison and Crime Scene Analyst Gene Wills of the Washington County Sheriff's Office.
Ford told jurors during her closing argument that the evidence clearly showed the Oct. 11, 2021 shooting, which followed an argument over the defendant sending money to women he met online, was intentional. Ford pointed out the defendant admitted to the shooting during a 911 call, the victim testified he was the one who shot her, it happened with his gun, and that he hid the gun outside afterward.
"The question isn't who shot (the victim), the question is why the gun was shot?" Ford said. "And what was proven today is why he did it. And that's because he was mad at the victim, he was mad she was going to call Social Security on him and he was going to take care of that."
The victim testified that the defendant had been spending money on women he met online.
"It upset me, him sending money to women he didn't know and he was also sending his brother's (disability) money also," she testified. "I told him if he continued on doing it I was going to call the Social Security office on him and I guess that's what triggered him to shoot me."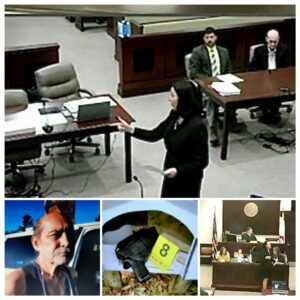 The victim said she saw the defendant with a gun, which wasn't unusual. But she said she looked away for a moment and when she turned back toward him, 'he already had the gun and hammer pulled back and his finger on the trigger and he shot me."
Sgt. Harrison testified when he arrived he found the victim sitting on the couch bleeding heavily. He said her arm appeared "deformed" from the bullet and he could tell it had shattered the bone before going into her chest and exiting near her spine. She spent 6 days in the hospital.
Basford thanked the Washington County Sheriff's office for their investigative work on the case.
For additional information, contact Mike Cazalas at mike.cazalas@sa14.fl.gov, or call 850-381-7454.