A man found guilty of 5 counts of Child Abuse that took place only months after he was released from prison was sentenced to nearly 16 years in prison Monday, State Attorney Larry Basford announced.
Jamal Tykeeon Wodford, 25, of Panama City, was found guilty at trial Oct. 7 of 5 charges of felony Child Abuse, and 3 misdemeanor offenses involving Battery and Assault.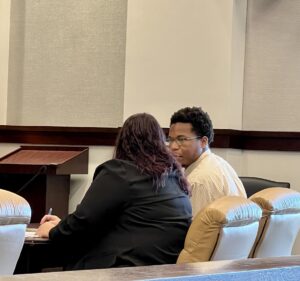 Prosecutor Jennifer Lieb successfully argued that the defendant should be sentenced as a Prison Release Reoffender based on his criminal history. The defendant was released from prison in October, 2021, about three months before these offenses. He was in prison for Felony Battery and Possession of a Controlled Substance.
Circuit Court Judge Timothy Register sentenced the defendant to 69.45 months on one of the Child Abuse charges, and, because of the PRR designation, the maximum of 5 years on each of the 4 remaining Child Abuse convictions.
Judge Register ordered the first three sentences to be served consecutively, or one after the other. The final two sentences will run concurrently with the others.
The defendant was arrested Jan. 24 by Bay County Sheriff's Office deputies after they received multiple calls that shots had been fired at the victims' home.
The State presented witnesses and evidence that a disturbance had broken out between the defendant and his ex-girlfriend at her home. During the assault on the adult victim, the evidence showed, the children were endangered and placed in fear.
For more information, contact Mike Cazalas at mike.cazalas@sa14.fl.gov, or call 850-381-7454.