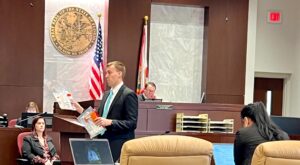 A Panama City man was given the maximum sentence of 30 years in prison late Tuesday after a 6-person jury found him guilty of drug trafficking and possession, State Attorney Larry Basford announced.
The jury deliberated less than an hour before finding James Marcus Wakefield, 42, guilty as charged of Trafficking in Methamphetamine and Possession of Heroin. Circuit Court Judge Timothy Register then moved to sentencing.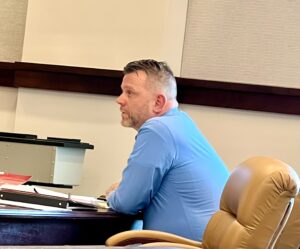 Lead Prosecutor Frank Sullivan noted that the defendant had 33 previous felony convictions.
Register said he heard the trial testimony and saw the evidence, including the baggies holding more than 50 grams of Methamphetamine.
"In addition to that, I have to consider the criminal history, which does show quite a history of burglaries and grand thefts and tampering and so on," Register said.
RELATED NEWS: Man who impregnated minor sent to prison
RELATED NEWS: 3 Life sentences for man convicted of murder
Register said that "as a result" of those factors, he was sentencing the defendant to the maximum – 30 years in prison that include a mandatory-minimum 7 years. The defendant received 5 years on the Heroin Possession conviction, to run concurrent with the first sentence.
Sullivan and Prosecutor Jae Hee Kim presented four witnesses – the three Bay County Sheriff's Office investigators and deputies who handled the case and an expert from the Florida Department of Law Enforcement.
Prosecutors proved through the evidence and witnesses, including lengthy testimony from BCSO Sgt. Steve Cook, that the defendant was in possession of the Methamphetamine and Heroin on Sept. 21, 2020, when his truck broke down on U.S. 231.
Cook testified that earlier in the day another man under surveillance as part of a narcotics investigation was found in possession of a smaller amount of Methamphetamine after a traffic stop. That man was detained, and while being questioned agreed to cooperate, identifying Wakefield as a large supplier.
Later that day the defendant called the witness, asking him to bring a tool that would unlock the tires on his disabled truck, which was just south of State 20 on U.S. 231.
The witness delivered the tool and confirmed the defendant was in possession of a large quantity of Methamphetamine, Cook testified. Cook, with other deputies close behind, moved in.
Cook testified that when he exited his vehicle and identified himself as a law enforcement officer, the defendant turned around and began to walk away, reaching into the front of his pants and throwing down a large baggie that contained multiple smaller baggies of Methamphetamine and one of Heroin.
The defense alleged the cooperating witness planted the drugs himself under the direction of a "crooked" cop, but the State and ultimately the jury discounted that claim.
Sullivan pointed out to jurors that the defense's version of events and key witness testimony changed multiple times and simply did not make sense.
"He had to match his testimony to the evidence," Sullivan said of the witness' evolving version of events. "Does his testimony agree with the other evidence in this case? Pictures don't lie. Evidence doesn't lie."
Basford said the successful prosecution was indicative of a well-investigated case by the Bay County Sheriff's Office. He noted it is another example of a pro-active case where an arrest was made and drugs seized before they could reach the streets.
For more information, contact Mike Cazalas at mike.cazalas@sa14.fl.gov, or call 850-381-7454.