A Bay County jury of six took less than 20 minutes Wednesday to find a Panama City man guilty of trafficking in Methamphetamine within 1,000 feet of a school, State Attorney Larry Basford announced.
Steven Wayne Stottlemyer, 60, was found guilty of Possession of Methamphetamine with intent to sell within 1,000 feet of a college and Trafficking in Methamphetamine.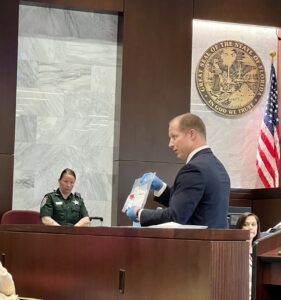 The trafficking charge carried a minimum-mandatory 7-year prison term, and a maximum of 30. Prosecutor Jacob Cook, citing the defendant's past convictions and the amount of methamphetamine involved, asked for a sentence on the upper end of the range.
Circuit Court Judge Shonna Shonna Young Gay sentenced the defendant to 25 years in prison on each charge, with the sentences to run concurrently, or at the same time.
"This again shows that if you traffic Methamphetamine, or any other drug, in Bay County, we are going to prosecute you to the fullest and you likely will be going to prison for a long time," Prosecutor Jacob Cook said after the sentencing. "We appreciate the hard work put in by the jurors. The swift verdict shows the strength of the case and the evidence put together by the Bay County Sheriff's Office and its Special Investigations Division."
Cook presented witnesses from the Bay County Sheriff's Office and evidence that proved the defendant was arrested on March 29 following hours of surveillance by members of the BCSO SID.
Investigators set up an undercover operation, during which the defendant retrieved a baggie with about 2 ounces of methamphetamine from a shed on his property.  Other officers then moved in and assisted with the arrest. They also obtained a search warrant and found more methamphetamine and paraphernalia inside.
Testimony showed a total of about 234 grams of methamphetamine was recovered.
For more information, contact Mike Cazalas at mike.cazalas@sa14.fl.gov, or call 850-381-7454.