A Panama City man pled no contest to sexually battering and molesting a young girl Thursday and was sentenced to 30 years in prison, State Attorney Larry Basford announced.
Heriberto Nunez, 45, will have to serve at least 25 years minimum-mandatory after his plea to Sexual Battery of a Child between the ages of 12 and 18, Lewd or Lascivious Molestation of a Child under the age of 12, and Fleeing or Attempt to Elude (High Speed/Reckless). The minimum-mandatory means the defendant will serve the first 25 years day-for-day.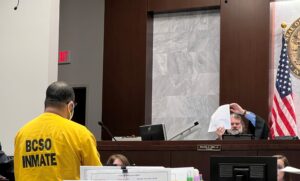 Circuit Court Judge Brantley Clark also designated the defendant a Sexual Predator and ordered that when he has served his term, he will be on Sexual Offender probation for the rest of his life with an electronic monitor. He will not be allowed contact with minors or the victim, and must register four times a year as a Sexual Predator.
Prosecutor Jennifer Lieb was prepared to produce witnesses and evidence, the Bay County Sheriff's Office and Gulf Coast Children's Advocacy Center, proving the defendant sexually attacked the victim over a number of years.
RELATED NEWS: Fentanyl trafficker facing 30 years, $500K fine after guilty verdict
RELATED NEWS: Sex offenses against 2 children bring 25-year sentence
The victim disclosed to a family member 2021 and the following day, Aug. 26, 2021, was interviewed by law enforcement and GCCAC. A warrant was obtained for the defendant's arrest. When deputies spotted him late that afternoon and attempted to conduct a traffic stop, the defendant led them on a high-speed chase that ended after deputies performed a PIT maneuver on the fleeing vehicle.
The defendant had cut himself intentionally during the pursuit. Afterward he admitted committing the offenses and said the victim was telling the truth.
Basford thanked the Sheriff's Office and GCCAC for their work on the case.
For more information, contact Mike Cazalas at mike.cazalas@sa14.fl.gov, or call 850-381-7454.