A Panama City man found guilty at trial of Trafficking in Fentanyl (28 grams or more) was sentenced to 25 years in prison and fined $500,000 Monday, State Attorney Larry Basford announced.
Walter Jim Roberson, 32, was found guilty Jan. 20 by a jury that deliberated for less than an hour.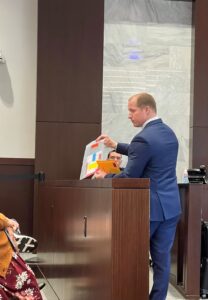 "Fentanyl is deadly in such small amounts that it has created an epidemic in terms of overdoses and deaths both locally, statewide and across our country," said Jacob Cook, who prosecuted the case. "This is another step toward getting it off our streets, and those who make the choice to traffic this poison in our community will continue to face the maximum penalty under law. We want drug traffickers to know that if you bring fentanyl to Bay County that our office will do our very best to make sure they go to prison for a long, long time."
RELATED NEWS: Fentanyl dealer found guilty, sentencing set for Feb. 6
RELATED NEWS: Traffic stop yields 114 months in prison for drug dealer
Because of the amount of Fentanyl the defendant possessed – 47 grams in total, or enough to cause about 23,000 overdoses – Florida's drug statutes called for a minimum-mandatory 25-year sentence once he was found guilty.
Fentanyl has become the leading cause of narcotics overdose deaths in the country, in part because it is much stronger than other opioids, not as expensive, and varies in strength. Illegally produced Fentanyl available on the streets can vary wildly in potency, which leads to overdoses. Two milligrams of Fentanyl is considered a lethal dose.
In this case, Panama City Police served a search warrant on a home June 23, 2022, and found approximately 47 grams of Fentanyl in the defendant's room.
Officers from the City's Street Crimes Unit testified they had the defendant under surveillance as part of an ongoing investigation and observed him selling Fentanyl on several occasions. They obtained a search warrant and served it the following day.
Basford thanked Panama City Police for the strong case it helped put together and for its proactive approach that stopped tens of thousands of doses of fentanyl from reaching the streets of Bay County.
For more information, contact Mike Cazalas at mike.cazalas@sa14.fl.gov, or call 850-381-7454.