For the second time in 13 years, Matthew Lee Caylor was sentenced to death Thursday for the 2008 murder and sexual battery of a 13-year-old girl in a Panama City motel, State Attorney Larry Basford announced.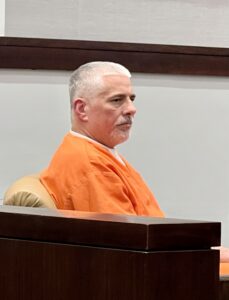 Chief Circuit Judge Christopher Patterson issued the sentence with a 13-page Sentencing Order that concluded, "The Court finds that the aggravating factors in this case far outweigh the mitigating circumstances."
The defendant was convicted of First-Degree Murder, Sexual Battery Involving Great Physical Force, and Aggravated Child Abuse in Oct., 2009, and sentenced to death by an 8-4 jury vote. The case was one of dozens across the state where new sentencing hearings were ordered after a 2016 Florida Supreme Court ruling that death sentences required unanimous votes.
"I originally prosecuted and convicted the defendant 13 and a half years ago and I remember well the agony caused by his horrific actions," Basford said. "I also remember the tireless efforts of the Panama City Police Department and others to investigate and solve this case. In 2009 a Bay County jury and Judge Dedee Costello decided that death was the appropriate sentence for sexually battering and killing this child.
"Judge Patterson, after reviewing the records and hearing all the other relevant evidence has also found that the death sentence was and is proper in this case," Basford continued. "I agree."
RELATED NEWS: Orme, for the third time, sentenced to death
RELATED NEWS: Man guilty of sexually battering, impregnating child is sentenced to Life
The victim, 13, and her family were living in a westside hotel where the defendant also was staying. Evidence and witnesses at the 2009 trial proved Caylor sexually battered the victim in his room and then strangled her to death. He hid her body under the bed, where it was found 2 days later.
The defendant was already in custody on an unrelated charge and admitted to the crimes.
The defendant was granted a new sentencing hearing in 2017. Prior to the second penalty phase, the defendant waived his right to a jury for the sentencing hearing, meaning the judge would determine the sentence based on the evidence.
For more information, contact Mike Cazalas at mike.cazalas@sa14.fl.gov, or call 850-381-7454.