A Parker man who witnesses heard muttering he set a house on fire because his gas can "was his only weapon" was found guilty as charged Thursday, State Attorney Larry Basford announced.
Lance Allan Johnson, 64, was found guilty of Second-Degree Arson, Resisting an Officer with Violence, and Battery on a Law Enforcement Officer after about an hour of deliberations. Circuit Court Judge Brantley Clark set sentencing for March 1.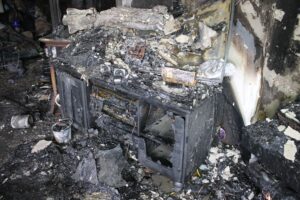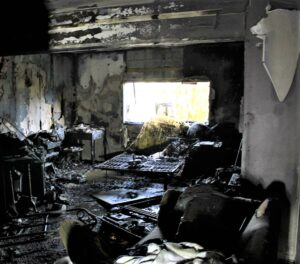 Prosecutor Dustin Miller said the day of the arson started with the defendant calling a news outlet and making a threat to commit violence.
"He followed that up later in the day by setting his residence on fire and striking a deputy who was attempting to arrest him," Miller said. "Thursday, a Bay County jury held him accountable for his actions.
"The State takes these crimes seriously, and I am proud of all the work from the multiple agencies on this case," Miller continued. "A guilty verdict wouldn't have been possible without the hard work of law enforcement."
Miller called 9 witnesses, including Parker and Springfield police as well as Bay County Sheriff's Office deputies who were involved in the arrest and investigation. The evidence included pictures of the structure, which was destroyed by the fire.
The testimony and evidence proved the defendant started a fire in the rear bedroom of the Ethlyn Road structure on March 11. Two witnesses saw the defendant leaving the residence at the time of the fire and heard him saying, "the gas can was his only weapon, to let (the structure) burn."
A BCSO deputy testified he tried to take the defendant, who had an outstanding warrant, into custody but he resisted, pulled away, and then struck him in the chest with his elbow.
Basford pointed out the collaboration between the various agencies is an example of the area's public safety work ethic, and results in prosecutors having a stronger case to prosecute.
For more information, contact Mike Cazalas at mike.cazalas@sa14.fl.gov, or call 850-381-7454.