A man charged with barging into a home while armed and threatening several people in the area as he departed was found guilty Wednesday and sentenced to 12 years in prison, State Attorney Larry Basford announced.
Prosecutor Frank Sullivan said Donald Anthony Holman, 53, will have to serve the first 10 years day-for-day under Florida's 10-20-Life Statute.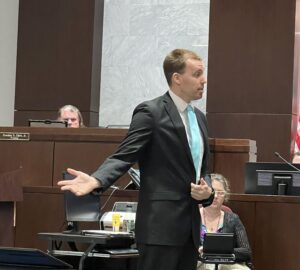 Jurors took about half an hour to find the defendant guilty as charged of Burglary of an Occupied Dwelling While Armed, and 4 counts of Aggravated Assault (Deadly Weapon). Circuit Court Judge Brantley Clark sentenced the defendant to 12 years on the first charge and 5 years each on the other charges, with all to be served concurrently.
FRAUD CASE: Former PC employee gets 8 years, makes full restitution
FENTANYL TRAFFICKER: 30-year sentence for PC woman 
Sullivan presented 7 witnesses and evidence showing that Bay County Sheriff's Deputies responded to several calls of a man armed with a handgun in a Bear Creek neighborhood on Oct. 25, 2019 around 11 p.m.
The evidence proved the defendant entered a home uninvited, where he approached the male resident. That resident testified he was sitting in a back room when the defendant "just walked in" with a gun and started yelling about "someone sleeping with his wife." The defendant's wife was in jail at the time and had been for several months. The man said he pushed the defendant outside, where the defendant then discharged his firearm.
A 9mm shell was found in the yard.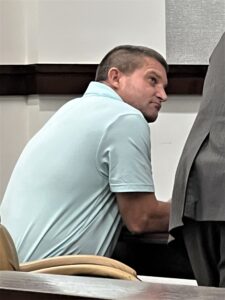 While deputies were interviewing those victims, two more people drove up and said they had seen the defendant arguing with a neighbor. The evidence showed the defendant saw them drive by and pointed his gun in their vehicle's window and threatened them, scaring the driver badly enough that he ran into the defendant's vehicle as he attempted to get away.
Other deputies in the area located the defendant nearby and took him into custody.
Basford thanked the Bay County Sheriff's Office deputies for their handling of a dangerous situation and the ensuing investigation.
For more information, contact Mike Cazalas at mike.cazalas@sa14.fl.gov, or call 850-381-7454.