A Panama City woman found guilty as charged Wednesday of Trafficking in Fentanyl was sentenced to 30 years in prison, State Attorney Larry Basford announced.
A Bay County jury found Danielle Michelle Cooper, 38, guilty of Trafficking in Fentanyl (14 grams or more but less than 28 grams), and Possession of Paraphernalia. Prosecutor Frank Sullivan said the 30-year sentence handed down by Circuit Court Judge Timothy Register following the verdict was the maximum. The first 15 years are minimum-mandatory.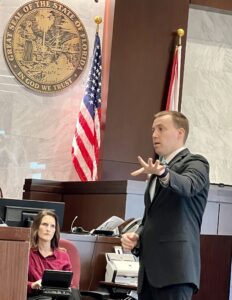 "Fentanyl is poisoning our community and we are committed to prosecuting these cases and getting it off our streets," said Sullivan, who also credited the Bay County Sheriff's Office for the evidence it gathered.
Sullivan called 4 witnesses and presented evidence proving the defendant was in possession of more than 14 grams of Fentanyl when case agent Phillip Hill and deputies served a search warrant on her home Oct. 9, 2021. It was Hill who was wearing a GoPro camera that would provide crucial evidence.
Hill was the first witness and testified deputies had a search warrant in hand and were waiting for the defendant to return home. When she pulled into the driveway, so did deputies, who identified themselves.
Hill testified he saw the defendant throw a plastic baggie out of the driver's window. A GoPro body camera he was wearing captured that sequence of events, and the video was played for jurors. Sullivan was able to freeze-frame the video and capture an image of the baggie in the air. It was recovered and found to contain Fentanyl.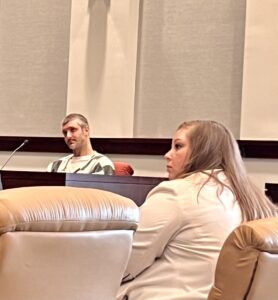 Former Sheriff's Office Deputy Jasmin Clack, now with the Florida Department of Law Enforcement, testified she searched the defendant after she was taken into custody and found a baggie containing Fentanyl in her bra.
Basford thanked the Bay County Sheriff's Office for its continued pursuit of drug traffickers and the strong evidence in this case.
For more information, contact Mike Cazalas at mike.cazalas@sa14.fl.gov, or call 850-381-7454.