BONIFAY – A Holmes County jury took 37 minutes Wednesday to find Latorish Antonio Gardner guilty as charged in the murder of one man and the attempted murder of his ex-girlfriend, State Attorney Larry Basford announced.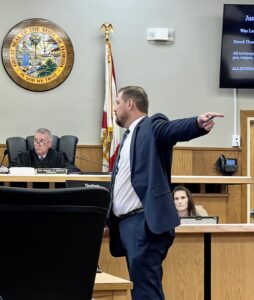 Under Florida's 10-20-Life Statute, Prosecutor Ben Keown asked that Gardner, 50, be sentenced to Life for Second-Degree Murder with a Firearm, Life for Attempted First-Degree Murder with a Firearm, and the maximum 15 years for Shooting into an Occupied Vehicle. Circuit Judge Russell Roberts agreed and made the sentences consecutive, meaning one will be served after the other.
Prosecutor Ben Keown said his heart goes out to the families of Derrick Thompson, who died, and Mariah Maps, who was critically wounded. He thanked jurors for their service and for focusing on the facts of the case to find justice for those affected.
"A shooting like this in a public area is the type of crime that one usually thinks of happening in other places, and to have such senseless violence happen in our community is unfathomable," Keown said. "A crime like this defendant committed sends shockwaves not only through the Holmes County community but also throughout the lives of every person who was at the Ponce De Leon rest area that day."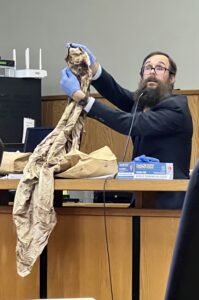 Witnesses and evidence presented by Keown painted a picture of chaos at the rest stop on May 2, 2021, after gunfire erupted. Mariah Maps was meeting the defendant, her former boyfriend, at the rest stop for him to pick up their three daughters for visitation.
RELATED NEWS: Prison for woman who OD'd on Fentanyl, smothering grandson
RELATED NEWS: Man who stabbed another man in neck during "bantering" sent to prison
Maps needed a ride and her boyfriend, Thompson, accompanied her. An argument began in the parking lot between Maps and the defendant, she testified, as he began making accusations against her. Thompson, the testimony showed, de-escalated the situation and was leaving with Maps when the dispute resumed.
This time, witnesses said, when Thompson tried to talk to the defendant, the defendant pulled a 9mm pistol and shot him once in the chest, killing him almost instantly. Witnesses and Maps testified that Maps fled on foot for about 70 yards with the defendant chasing her while firing another half dozen rounds at her in the parking lot.
She spotted an open door on a car at the rest stop and sought refuge there. James Lancaster testified it was his car and he saw the defendant chasing the victim, saying he was going to kill her before she tried to crawl into the back seat of his car.
He said he retrieved a gun from his car to protect Maps and pointed it at the defendant, who was waving his gun around.
"He fired over my shoulder and through the window and hit her," the witness testified. "As soon as he had shot, he said, 'It's over, I'm done,' and he turned and walked away."
The defendant was found and arrested later that day at a relative's home in Marianna. The murder weapon was never recovered.
Basford thanked all the witnesses who were at the rest stop that day and returned to testify. He also credited the work of the Holmes County Sheriff's Office, the Florida Department of Law Enforcement, Holmes County EMS, and the Jackson County Sheriff's Office for their participation in the investigation and prosecution of the case.
For more information, contact Mike Cazalas at mike.cazalas@sa14.fl.gov, or call 850-381-7454.