A Bay County jury Wednesday returned a guilty verdict against a woman caught with more than 400 grams of Methamphetamine after she fled from law enforcement and tripped in a ditch, spilling multiple bags of the drug, State Attorney Larry Basford announced.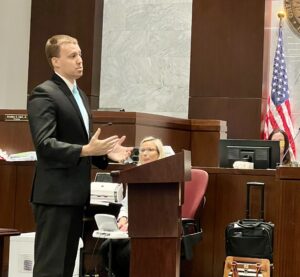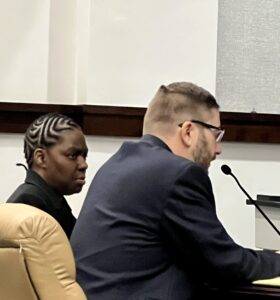 Kizzy Gentina Patterson, 44, of Panama City, was found guilty as charged of Trafficking in Methamphetamine (more than 200 grams), after 26 minutes of deliberation. Circuit Court Judge Brantley Clark set sentencing for May 25 at 9 a.m.
The crime is a first-degree felony and under Florida's Statute for enhanced penalties in drug trafficking cases, the defendant faces a minimum of 15 years in prison and up to 30 years.
"This defendant made some bad choices to avoid capture when she fled deputies, drove into their vehicles and then fled on foot – all with innocent bystanders nearby," said Prosecutor Frank Sullivan. "Florida has made some good choices with its enhanced penalties for drug traffickers, and we anticipate she will pay a steep price for her actions."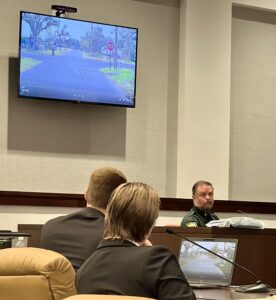 RELATED NEWS: Discharge of firearm during crime = 20 years
RELATED NEWS: Violent Sexual Predator committed under Ryce Act
Sullivan called three current or former Bay County Sheriff's Office investigators who testified that on Jan. 9, 2020, the defendant was under surveillance after information was received she was going to be in possession of a large amount of methamphetamine. A fourth witness from the Florida Department of Law Enforcement testified that the seized drugs tested positive for methamphetamine and weighed about 420 grams.
Former investigator Stephen O'Bryen said the defendant was seen leaving the house with a large black bag which was believed to contain methamphetamine. Lt. Doug Smith said an undercover deputy using his emergency lights attempted to pull her over for a violation, but she fled.
O'Bryen testified he was in an unmarked vehicle in front of the defendant when the traffic stop was initiated, and she ran into the rear of his car trying to get away. Video from a Springfield patrol car captured the defendant then attempting to turn left and escape, but hitting another vehicle before being pinned against a power pole.
At that point, the video showed the defendant leaping out of the car and running away with a black bag. A pursuing investigator testified she stumbled while crossing a ditch and that multiple baggies of what turned out to be methamphetamine tumbled out. She was captured a few yards away.
Basford thanked the Sheriff's Office for its work on the case and for safely apprehending the defendant, as well as the Springfield Police Department for capturing the video.
For more information, contact Mike Cazalas at mike.cazalas@sa14.fl.gov, or call 850-381-7454.