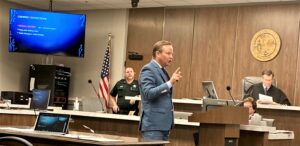 MARIANNA – A convicted sex offender who was nearing his release from prison has instead been ordered to the Florida Civil Commitment Center as a Sexually Violent Predator under the Jimmy Ryce Act, State Attorney Larry Basford announced.
Eddie Caldwell, 63, has a long history of arrests and spent the bulk of the last 30 years in prison – most recently for Sexual Battery. He was set for release, but Assistant State Attorney Zach Taylor proved to 6 jurors in a civil trial Tuesday that the defendant had been to prison 11 times, did not take long to reoffend upon each release, was "unusually persistent" in repeating his behavior despite the repercussions, and was likely to offend again.
The jury took 42 minutes to find that the defendant was a Sexually Violent Offender under the Ryce Act and Chief Circuit Court Judge Christopher Patterson ordered him to be held at the Florida Civil Commitment Center where he can receive treatment. He will be re-evaluated at least once a year.
"He's been offending and committing serious crimes, the evidence will show, since "M*A*S*H" was on television and "Dynasty" was popular and before there were cell phones," Taylor told jurors. "It's hard to (overlook) these 11 incarcerations and this most recent case.
"We wouldn't be here today if not for his history of similar crimes," Taylor continued. "What we have here is a pattern of disrespect and violence toward female victims."
The Jimmy Ryce Act is a civil commitment process, after a prison sentence, for the most dangerous sexual offenders in the state. The State most prove the offender has been convicted of a sexually violent offense, that he suffers from a mental abnormality or personality disorder, and that the disorder makes it likely he would offend again.
RELATED NEWS: Man's 2nd jail escape leads to 2nd 15-year sentence
RELATED NEWS: Accused killer now convicted murderer
Dr. Gregory Prichard, a clinical and forensic psychologist, was one of two experts to testify that the defendant met the criteria.
"For Mr. Caldwell it's been an exceptional number of sexually motivated crimes and an exceptional number of general crimes," Prichard told jurors, referring to 9 of the previous offenses. "I really cannot emphasize enough how extremely rare that is.
"When he gets back into the community he generally offends again," he continued. "He's very, very persistent, which is unusual."
Prichard testified that is a "strong indicator" the defendant would offend again.
"He doesn't have any qualms about breaking the law, hurting other people, taking peoples' things," Prichard said. "It doesn't deter him like most other people that he might be arrested and imprisoned again."
The defendant's most recent offense that sent him to prison was in 2010 when he was charged with Sexual Battery and Lewd and Lascivious Offense on a Disabled Adult. Previous arrests going back to 1985 include 2 charges of Sexual Battery, committing a Lewd and Lascivious Act, and charges involving prostitution.
Basford thanked the experts for their work on the case as well as Taylor, who handles all of the Sexually Violent Predator Commitment cases in the 14th Judicial Circuit.
For more information, contact Mike Cazalas at mike.cazalas@sa14.fl.gov, or call 850-381-7454.