The Florida Fish and Wildlife Conservation Commission has named Josh James, a 14th Judicial Circuit prosecutor, as the FWC's Prosecutor of the Year.
The announcement was made at the FWC's recent meeting in St. Petersburg.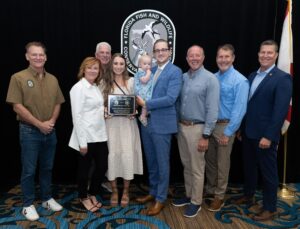 "Prosecutors like Josh James who establish relationships and share a passion for conservation are critical to our success," said Col. Brian Smith, Director of the FWC Division of Law Enforcement. "We are fortunate to have such an involved prosecutor working alongside our officers helping to protect the people and natural resources of Florida."
James, who joined the Bay County office of the 14th Judicial Circuit in 2021 and prosecutes felony cases, said the nomination was a surprising honor and winning Prosecutor of the Year for the state is humbling.
"I was just very honored. First, to be nominated by my local officers, and even more so to be selected by Col. Smith," James said. "I've only been a prosecutor for 2 years, so I didn't expect to be recognized by the FWC this early on in my career."
RELATED NEWS: 2 Prosecutors join SAO team
RELATED NEWS: FWC response to discovery of Chronic Wasting Disease in Florida
Rondeau cited James' collaboration with FWC officers in the prosecution of multiple cases ranging from hunting over a baited field and being over the bag limit of deer, to BUI (Boating Under the Influence) and the removal of derelict vessels.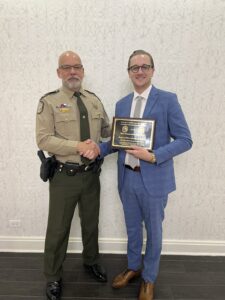 Rondeau noted that James has ridden along with FWC officers to see for himself what they encounter and learn more about wildlife law enforcement and is always available when FWC officers have questions about a case.
It was the prosecution of those individual cases that led to James being nominated by FWC Northwest Regional Commander Fred Rondeau.
James, his wife, and daughter attended the FWC conference to receive the award.
"What they do is important and often overlooked," James said of FWC officers. "A lot of what they do is try to educate the public as well as enforcement and I enjoy working with them. It's reflective of the relationship between our offices."
For more information, contact Mike Cazalas at mike.cazalas@sa14.fl.gov, or call 850-381-7454.