PANAMA CITY – A woman who hit a multi-passenger golf cart with her truck, ejecting all seven occupants and leaving some hospitalized for months, received the maximum sentence Wednesday, State Attorney Larry Basford announced.
Courtney Spears, 28, whose Blood-Alcohol Level (BAL) was more than three times the legal limit at the time of the 2020 crash, was charged with six counts of DUI With Serious Bodily Injury, and one count of DUI (Enhanced) because of her high BAL. She entered an Open Plea of guilty to the charges, meaning Circuit Judge Shonna Young Gay would decide her sentence after hearing testimony.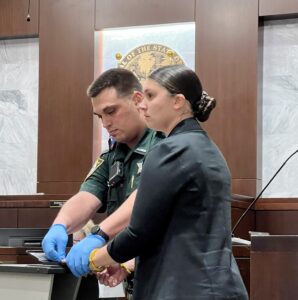 Prosecutor Barbara Beasley, after testimony from some of the victims and their families about the severity of their injuries that will last a lifetime, asked the judge to impose the maximum sentence.
"As we grow up and age, we are taught there are consequences for everything we do," Beasley said. "And her Blood-Alcohol Level was .25 – three times the legal limit. She made a terrible decision that day that will affect the victims for the rest of their lives."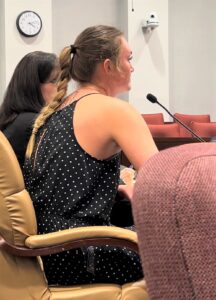 Beasley asked for a sentence of 5 years on each of the first six counts, with each sentence to run consecutively, or one after another. Judge Gay agreed. The defendant was given time served on the seventh charge.
Beasley was prepared to prove that on the night of March 16, 2020, the defendant was driving a large pickup truck south on Lakeview Circle on Panama City Beach. The victims were driving west on Front Beach Road in a "Low Speed Vehicle," or street-legal golf-cart type vehicle.
The evidence showed the defendant turned left into the path of the LSV, hitting it almost head-on and ejecting all of its occupants. Blood was drawn from her at the scene and it showed a BAL of .25.
RELATED NEWS: Man who killed friend and fled sentenced to Life
RELATED NEWS: Josh James named FWC's Prosecutor of the Year
All the victims suffered injuries. Several were hospitalized for lengthy periods of time and will require lifelong care. Two of the most critically injured spoke during sentencing.
Hailey Welch of North Carolina was 18 at the time of the wreck and does not remember it, she said. She spent 21 days in a medically induced coma following the wreck. She suffered a fractured pelvis (now held together with a plate that will have to be replaced), compound fractures of her fibula and tibula, a fractured femur, a blow to the head that left her with lifelong brain trauma. She faces a hip replacement and other surgeries in the future.
"I am changed by you, your selfish decision," Welch testified. "I don't know what it's like to not be in pain. My future does not look good. Pain will always be a part of my life."
Welch said she was on so much pain medication that she began hallucinating, so she gave up the pills and is learning to live with the pain.
"Not only was her body shattered," Welch's mother, Cathy, added. "So were her dreams."
Speaking to the defendant, Cathy Welch said, "When you decided to drink like that and drive, the accountability is on you. There is only one person to blame, and that is yourself."
Basford thanked the Panama City Beach Police Department for its handling of a chaotic scene and investigative work, as well as the paramedics who were credited by two victims with saving their lives.
For more information, contact Mike Cazalas at mike.cazalas@sa14.fl.gov, or call 850-381-7454.