30-year sentence for Fentanyl trafficker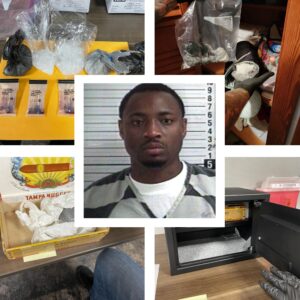 Defendant was in jail for trafficking when deputies tracked down large amount of Fentanyl, Methamphetamine hidden at other residences
A Panama City man found guilty of trafficking in large amounts of Fentanyl and Methamphetamine last month was sentenced to 30 years in prison Tuesday, State Attorney Larry Basford announced.
Graylin Joseph Patterson, 31, was found guilty Sept. 8 of Trafficking in Fentanyl (more than 14 grams but less than 28 grams), Trafficking in Methamphetamine (more than 28 grams but less than 200 grams), and Unlawful Use of a Communications Device.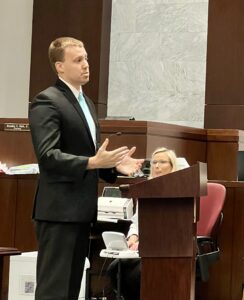 Prosecutor Frank Sullivan presented the case Sept. 8 and it took jurors less than an hour to find the defendant guilty as charged.
Circuit Court Judge Brantley Clark Tuesday sentenced the defendant to 30 years in prison – 15 years of which is minimum-mandatory based on Florida's enhanced drug trafficking penalties. Clark also fined the defendant a combined $200,000.
Sullivan called three witnesses at trial and presented evidence proving the defendant was in the Bay County Jail June 13, 2022, after Bay County Sheriff's Office Inv. Phillip Hill charged him with trafficking in Fentanyl.
RELATED NEWS: 3 drug traffickers headed for prison
OTHER NEWS: Click to view past Press Releases
The evidence showed that Hill, continuing his investigation, learned that the defendant was making contact with others as he continued to attempt to coordinate collection and distribution of the drugs from two separate residences.
Search warrants served at the two residences turned up a total of 248 grams of Methamphetamine and about 53 grams of Fentanyl. Fentanyl is a potent opiate responsible for overdoses across the country because 2 milligrams can be fatal. Because it is made in clandestine labs, the strength often varies and is unpredictable. The 53 grams belonging to the defendant could cause more than 26,000 overdoses.
Basford thanked the Bay County Sheriff's Office and investigators Phillip Hill and Doug Cummings for their thorough work and follow up on the case.
For more information, contact Mike Cazalas at mike.cazalas@sa14.fl.gov, or call 850-381-7454.