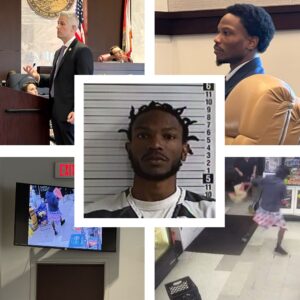 A man found guilty by a jury Oct. 31 of shooting a clerk during an attempted robbery was sentenced to Life in prison Monday under Florida's 10-20-Life law, State Attorney Larry Basford announced.
Kedrick Jamal McNeil, 27, was convicted two weeks ago of Attempted Robbery with Discharge of a Firearm causing Great Bodily Harm, Aggravated Battery with a Firearm causing Great Bodily Harm, and Felon in Possession of a handgun.
RELATED NEWS: Man who sexually battered child sentenced to Life
RELATED NEWS: Life sentence for convicted felon who shot clerk 5 times
Prosecutor Peter Overstreet successfully argued that the defendant should be sentenced under Florida's 10-20-Life law. He also showed the defendant was a Habitual Violent Felony Offender and a Prison Release Reoffender.
"He had been out of prison less than a year and our office will continue to take a tough stance on the use of firearms in a crime, particularly by a previously convicted felon who has been to prison," Overstreet said.
Circuit Court Judge Timothy Register sentenced the defendant to Life on each of the first two charges under Florida's enhanced penalties for those who use firearms during the commission of certain crimes.
Overstreet called seven witnesses at trial, including the victim who was shot in the thigh during the attempted robbery. He also presented evidence gathered by Bay County Sheriff's Office investigators to prove the defendant attempted to rob the Beeline Convenience store in Callaway on Sept. 9, 2021, and shot the clerk when she refused to give him money.
A Bay County jury took less than an hour to return a guilty verdict.
For more information, contact Mike Cazalas at mike.cazalas@sa14.fl.gov, or call 850-381-7454.