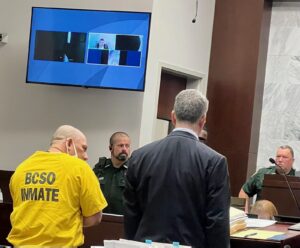 A man found guilty last month of sexually battering a young girl was given two life sentences Friday, State Attorney Larry Basford announced.
Rene Elmer Rivas, 53, was sentenced by Circuit Court Judge Timothy Register for Sexual Battery on a Person Less Than 12 Years of Age, and Lewd or Lascivious Molestation.
Prosecutor Frank Sullivan presented the case to jurors June 28 and it took them less than an hour to find the defendant guilty.
JOIN OUR TEAM: We have openings for prosecutors and a legal assistant. Is it a fit for you?
RELATED NEWS: Press Release from Rivas trial
At trial, Sullivan presented evidence and witnesses including the victim, the Bay County Sheriff's Office and Gulf Coast Children's Advocacy Center proving that the victim was sexually assaulted by the defendant when she was about 7 years old, and that it happened more than once in 2013-14.
During trial, BCSO Lt. Christian Williams, the case agent, said he watched as the Gulf Coast Children's Advocacy Center conduct a forensic interview with the victim. The victim disclosed the abuse and a physical examination confirmed the abuse.
Basford thanked the GCCAC and Bay County Sheriff's Office for its work on the case.
For more information, contact Mike Cazalas at mike.cazalas@14sa.fl.gov, or call 850-381-7454.