A man who opened fire on two deputies responding to reports of a man shooting a gun has been found guilty of two counts of Aggravated Assault on a Law Enforcement Officer and one count of Possession of a Bulletproof Vest during the crimes, State Attorney Larry Basford announced.
A Bay County jury took 30 minutes to return the verdict against William Kiefer Bradley Egan, 30, of Callaway, on Wednesday. Circuit Judge Timothy Register set sentencing for Aug. 12. Egan faces up to 35 years in prison, with a minimum-mandatory of 3 years on the first two charges.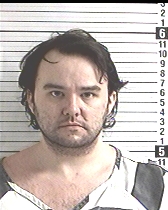 Assistant State Attorney Barbara Beasley called eight witnesses, including the two deputies who were fired upon and neighbors who saw the defendant holding and firing the gun.
According to the evidence and witnesses Beasley presented, the defendant had a dispute with a family member at home the morning of Feb. 2, 2019. He went to his safe and got out a semi-automatic Beretta 9mm pistol, 2 extra clips, a box of ammunition, a bulletproof vest, and a large hunting knife.
RELATED NEWS: Bivins guilty of Felony Murder in Beach slaying
The family member called law enforcement and the defendant left the home, with his first shots being fired at the family member's car, which was struck three times.
Neighbors said they also saw the defendant shooting randomly as he walked through the neighborhood.
BCSO Cpl. Jacob McGowin and Sgt. J. Ferrell responded to the call and arrived at the same time, with witnesses pointing out the defendant's location. The deputies testified that when the defendant saw them, he fired twice at each deputy.
McGowin and Ferrell took cover behind McGowin's SUV to gear up while keeping an eye on the defendant, who reloaded and began firing again before fleeing.
McGowin contacted SWAT Team Lt. Billy Byrd, who was having lunch with his family nearby, and he responded along with Deputy Jared Walker. Byrd and Walker spotted the defendant, who surrendered a short time later.
Basford thanked the Sheriff's Office both for its handling of a volatile and potentially deadly situation as well as the case deputies and investigators put together.
For more information, contact Mike Cazalas at mike.cazalas@14sa.fl.gov, or call 850-381-7454.