A Bay County jury took about 25 minutes Wednesday to find Andre Devon Bivins guilty as charged in the 2019 attempted robbery and shooting death of Edward Ross on Panama City Beach, State Attorney Larry Basford announced.
The guilty verdict followed a two-day trial for the defendant, who was convicted of First-Degree Felony Murder With a Firearm, and Attempted Robbery with a Firearm. Circuit Court Judge Shonna Young Gay set sentencing for Aug. 9. The defendant, now 32, faces life in prison without the possibility of parole pursuant to Florida's 10-20-Life Statute.
MORE: VIDEO AS VERDICT IS PUBLISHED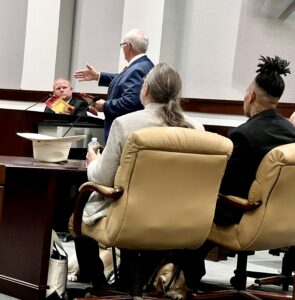 Prosecutors Mark Graham and Frank Sullivan presented evidence and witnesses proving that the defendant was one of the three men who burst into Ross' Sunset Avenue home Dec. 29, 2019, for a planned robbery that turned into a homicide when all three men began shooting. Testimony showed that the defendant was the first in the door and the first to shoot the victim.
"The defendant was one of three shooters and he was actually the one who shot first," Graham told jurors. "He knew what was going to happen and he was an active participant."
The State called 13 witnesses ranging from the victim's father and two co-defendants, to Bay County Sheriff's Office investigators who interviewed Bivins and an analyst who showed Bivins' phone was in use near the crime scene after the shooting.
The victim's father testified a man knocked on their door that night asking for his son, and by the time he told his son – who was in the shower – three men ran into the house armed with pistols. He testified his son, still in his bath towel, only had time to ask what was going on before the shooting started.
RELATED NEWS: Meth trafficker caught with 6 pounds sentenced to 20 years
RELATED NEWS: 2 Life sentences in child sex case
Evidence and testimony showed the defendant fired first, striking Ross in the abdomen, and about 9 more shots were fired almost immediately by the three suspects. Medical Examiner Dr. Jay Radtke testified the victim was struck multiple times. Evidence and testimony showed bullets from all three guns struck the victim.
The victim's father testified it was over in less than a minute and the men fled. "I saw Edward take his last breath," he told jurors. Sheriff's investigators canvassed the area for video and found that just minutes before the shooting, five men in two cars were meeting at a nearby convenience store. The cars left and returned minutes later, then left again toward the victim's home.
Video from the store showed one of those men going inside and a still shot from that led to Bivins being identified. As the case unfolded, four other co-defendants were located. Three of them admitted to their involvement in statements to investigators and two of those testified at trial.
Basford thanked the Bay County Sheriff's Office for its work on a complicated case involving five defendants living at times in three different counties.
For more information, contact Mike Cazalas at mike.cazalas@14sa.fl.gov