A Bay County jury discounted a woman's testimony in her own defense and found her guilty of drug trafficking Wednesday, but she never returned once deliberations began and is now a fugitive, State Attorney Larry Basford announced.
Circuit Court Judge Brantley Clark ordered a capias for the arrest of Ashley Yvonne Peters after dismissing the jurors who found her guilty of Trafficking in Methamphetamine (between 14 and 28 grams), Possession of Paraphernalia, and Tampering with Physical Evidence.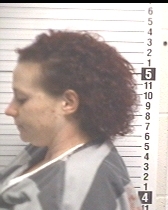 Peters, 37, a white female about 5 feet, 3 inches tall, and weighing about 200 pounds, was present during the trial and took the stand in her own defense for about 10 minutes Wednesday morning.
Following Prosecutor Jennifer Lieb's closing arguments and the judge's jury instructions, deliberations began at 11:37 a.m. and court was in recess. Court was reconvened at 12:18 to address a question from jurors and the defendant was not there. When it was announced around 1:30 p.m. that the jury had reached a verdict – but before jurors were brought back into the courtroom – the court made a finding that the defendant was voluntarily absent.
The jury announced its guilty verdicts and after jurors were released Judge Clark found the defendant had also violated a previous Violation of Probation for Possession of Methamphetamine and ordered a hold-without-bond capias for her arrest.
The defendant is facing up to 30 years in prison on the drug-trafficking charge, with the first 3 years being minimum-mandatory.
Lieb called four witnesses: Bay County Sheriff's Office Deputy Gage Cowart, the case agent; BCSO Inv. Doug Cummings; Panama City Beach Police Department Det. Stephanie Thomas and Florida Department of Law Enforcement analyst Pallavi Vira.
RELATED NEWS: Two Life sentences for Ortiz in Beach murder
RELATED NEWS: "Scoop" dealer faces prison
The witnesses' testimony and evidence presented at trial proved that the defendant was driving a vehicle involved in a traffic stop June 18, 2020, around 9:40 p.m. Cummings' K9, Bix, detected the odor of narcotics coming from the vehicle.
The defendant, before a female officer could search her, admitted she had about an ounce of Methamphetamine in her underwear. It was recovered and a search of the vehicle turned up a digital scale, syringes, and other paraphernalia.
For more information, contact Mike Cazalas at mike.cazalas@sa14.fl.gov, or call 850-381-7454.