A Bay County jury took about 80 minutes Thursday to return a guilty verdict against a man who struck a woman hard enough to break her nose and damage her mouth to the point that it required corrective surgery, State Attorney Larry Basford announced.
Tony Leon Brown, 58, of Panama City, was found guilty as charged of Felony Battery Resulting in Great Bodily Harm. Circuit Court Judge Brantley Clark set sentencing for Dec. 2 at 1:30 p.m.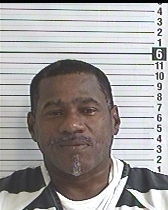 Prosecutor Josh James called three witnesses – Bay County Sheriff's Deputy Jason Procter, Dr. Marie Becker of Tallahassee, and the victim – to prove the defendant committed the crime against a former girlfriend.
"In returning a verdict of guilty, the jury sent a strong message to defendants like Tony Brown: the citizens of Bay County will not tolerate violence," James said. "Thanks to the hard work of Deputy Jason Procter and the victim's courage in testifying, the defendant now faces prison and the consequences of his actions."
Evidence showed that the victim was in Panama City to visit her family and was holding her 6-month-old granddaughter when the defendant showed up at the residence.
RELATED NEWS: Defendant disappears while jury deliberates
RELATED NEWS: Two Life sentences for Ortiz in Beach murder
An argument ensued, according to testimony, because the victim had broken up with the defendant and would not go out with him that night. The defendant then punched the victim in the face.
"He felt disrespected, so he punished her for that," James told jurors. "He just got upset because she wouldn't do what he wanted her to do."
The defendant fled after 911 was called. An ambulance took the victim to the hospital and within days she had to undergo surgery in Tallahassee to correct the damage. Dr. Becker testified the surgery was medically necessary or there would have been permanent disfigurement.
The victim testified she continues to suffer with pain and difficulty breathing.
The defendant has a previous conviction for Felony Battery in 2008.
For more information, contact Mike Cazalas at mike.cazalas@sa14.fl.gov, or call 850-381-7454.