Two Bay County men were sentenced to prison Thursday in unrelated drug cases – one for Trafficking in Methamphetamine and the other for possessing and selling a drug known as "Scoop" or "Water," State Attorney Larry Basford announced.
Terrius Eugene Gainer, 46, of Panama City, was sentenced to 20 years in prison by Circuit Court Judge Dustin Stephenson Thursday. Gainer entered an open plea of guilty to Trafficking in Amphetamine (more than 28 grams) and Possession of Paraphernalia on Oct. 12, the day his trial was supposed to begin and after a jury had been selected. A defendant can "open plea" at any time, meaning the defendant admits guilt to the charges but does not accept an offer from the State. The Judge determines the proper sentence after hearing from both the State and the Defense.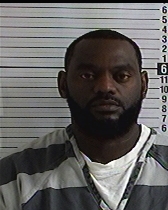 "This defendant has been to prison multiple times over the last 20 years and within two or three years of each release he would be arrested on new offenses," Prosecutor Nicole Reed said. "As the severity of the charges have grown, so have the penalties, and he is now paying a higher price."
Reed noted that the defendant's previous prison sentences have ranged from just over 1 year to a 10-year sentence for robbery. He was last released from prison on May 24, 2020, for drug possession charges. He was arrested on the latest charges in December, 2021.
Reed also thanked the jurors who never got to hear the case. "They showed up to do their civic duty, and they were selected to hear this case," she said. "They returned on the day of trial only to find out the defendant had just decided to plead guilty. That is a lot of their time they willingly gave and it is appreciated."
RELATED NEWS: Prison awaits man whose punch broke victim's nose, palate
RELATED NEWS: Woman found guilty after disappearing during deliberations
Gainer was designated as Habitual Felony Offender for sentencing based on previous convictions.
For trial, Reed was prepared to call witnesses and present evidence showing that Bay County Sheriff's Office deputies conducted a traffic stop on a vehicle Gainer was driving on Thomas Drive on Dec. 13, 2021. Deputies knew Gainer did not have a valid driver's license and the vehicle's registration was expired.  When asked if there was anything illegal in the vehicle, the defendant admitted he had about 2 ounces of "Ice," or Methamphetamine. Deputies then searched the vehicle and found about 52 grams of Methamphetamine in multiple bags.
Also Thursday, John Virgil Murphy, Jr., 46, of Panama City, was sentenced to 7 years in prison by Judge Stephenson for possession of a large quantity of a chemical that the body rapidly converts into GHB. He was found guilty at trial Oct. 13 of Sale or Possession of a Controlled Substance with Intent to Distribute, and Possession of Drug Paraphernalia.
Murphy's sentence was the result of his April, 2021, arrest following an investigation by the Bay County Sheriff's Office that led to the seizure of a large quantity of 1,4 Butanediol. The substance – an industrial chemical designed to make floor stripper and paint thinner, as well as some types of plastics and similar materials – is rapidly converted into GHB after it is ingested.
Florida Statutes classify the chemical as a Schedule 1 drug with no acceptable medical use and high potential for abuse.
Prosecutor Dustin Miller, who presented the case Oct. 13, reiterated that authorities will not tolerate "the poison that drug dealers are bringing into our community."
"And when it comes to the Butanediol, this is a particularly dangerous poison because it not only causes overdoses, it can be used as a 'date-rape' drug," Miller said.
Basford thanked the Sheriff's Office investigators and personnel involved in the two arrests both for the proactive nature of the investigations and the strength of the cases they put together.
For more information, contact Mike Cazalas at mike.cazalas@sa14.fl.gov, or call 850-381-7454.