The State put on 2 witnesses and entered 18 pieces of evidence, but it was a few minutes of video and the defendant's own statements that helped a jury reach a guilty verdict in only 7 minutes Thursday, State Attorney Larry Basford announced.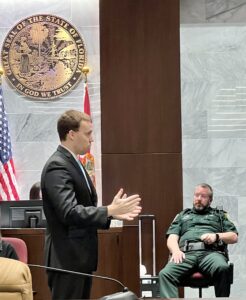 Charles Kevin Dawson, Jr., was found guilty of Trafficking in Fentanyl (4 grams or more but less than 14 grams), Possession of Oxycodone, Possession of Amphetamines/Methamphetamine, Possession of a Controlled Substance, and Possession of Paraphernalia.
Sentencing followed the verdict, and Prosecutor Frank Sullivan noted the defendant's criminal record, which includes a Sexual Battery in 2008 and Failure to Register as a Sexual Predator.
"I would point out obviously that the defendant has a criminal history that includes a previous capital offense," Sullivan said to Circuit Court Judge Brantley Clark. "The State is asking for the maximum on the Trafficking in Fentanyl."
RELATED NEWS: Death sentence for Caylor in sexual battery, murder of child
RELATED NEWS: Life in prison for man who impregnated 12-year-old
Judge Clark agreed, sentencing the defendant to 30 years on the Trafficking charge and 5 years each on the other drug charges, to be served concurrently with the Trafficking sentence. The defendant was given time served on the paraphernalia charge.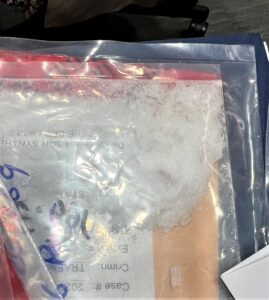 Sullivan presented witnesses and evidence that proved the defendant was in possession of a variety of drugs when Bay County Sheriff's Office Sgt. Jeremy Head led a team serving a search warrant on his room at a Youngstown hotel Feb. 18, 2021.
Video from a GoPro camera showed the entry into the room, where deputies could see 2 Crown Royal bags in plain sight on the bed. The defendant and a woman were in the room, and the defendant quickly told deputies the woman "doesn't know anything about this."
The two were taken out of the room and during a search deputies found drugs in the Crown Royal bags and other places, including a plate underneath the bed. They also found mail addressed to the defendant at that address.
"What this case is going to come down to is did the defendant possess the drugs? It's as simple as that," Sullivan told jurors in his closing argument. "Ladies and gentlemen, this isn't a complex case. There isn't a lot of different pieces of evidence. But what there is proves the defendant is guilty."
For more information, contact Mike Cazalas at mike.cazalas@sa14.fl.gov, or call 850-381-7454.