PORT ST. JOE – A Marianna woman accused of trying to smuggle methamphetamine into the Gulf County Jail after her 2020 arrest for Failure to Appear, also failed to appear for her trial on those charges Tuesday.
The trial went on without Vicki Trickey, 62, and the jury took 4 minutes to return verdicts of guilty of Introduction of Contraband into a County Detention Facility, Possession of Methamphetamine, and Possession of Paraphernalia. Circuit Court Judge Devin Collier set a sentencing date for March 16. She faces up to 5 years in prison.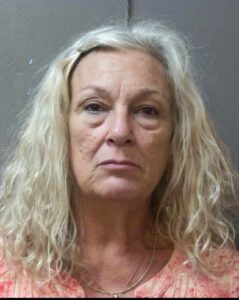 Collier also issued a hold-without-bond pickup order for the defendant for Failure to Appear for her trial.
Judge Collier instructed jurors on the defendant's absence and court procedure before the trial began.
"The Defendant, Vicki Wood Trickey, has voluntarily absented herself from this trial," he said. "The Court warned the Defendant that her failure to appear for trial may result in the trial being conducted without her physical presence.
"As such, the Court has determined that the trial will proceed without the Defendant's presence; my legal decision in this regard must not influence your verdict one way or the other."
Gulf County Chief Prosecutor Tracy Smith presented witnesses and testimony from the Gulf County Sheriff's Office and the Gulf County Detention Facility proving that the defendant was stopped by deputies Nov. 2, 2020. A routine check showed the defendant was wanted for Failure to Appear on an unrelated charge and she was taken into custody.
RELATED NEWS: 4 Life sentences, 10 25-year sentences for man convicted of repeated sexual attacks on child
RELATED NEWS: Man guilty of setting his house on fire after losing temper
At the jail, the evidence showed, the defendant was searched for contraband and was found in possession of a medicine bottle containing two small baggies with methamphetamine.
State Attorney Larry Basford thanked the Gulf County Sheriff's Office and jail staff for their thorough work in finding the contraband during the booking process.
For more information, contact Mike Cazalas at mike.cazalas@sa14.fl.gov, or call 850-381-7454.