MARIANNA –Trayvon Leon Dorsey, set for trial this week for the 2020 shooting death of Shannon Weatherington, pled to the charge Monday morning, and was sentenced to 30 years in prison, State
Attorney Larry Basford announced.
Dorsey, 21, of Dothan, Ala., pled no contest to Second Degree Murder with a Firearm and was adjudicated guilty by Circuit Court Judge Ana Maria Garcia. Judge Garcia accepted the plea agreement of 30 years in prison with the first 25 years being minimum-mandatory.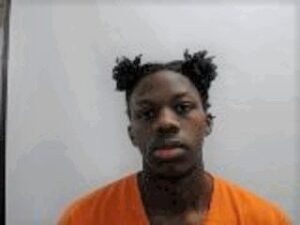 Jackson County Chief Prosecutor Shalla Jefcoat was prepared to present witnesses and evidence proving that the defendant shot the victim twice when something went wrong during an arranged marijuana buy in the restroom of a local fast-food business on Nov. 21, 2020.
RELATED NEWS: Chipley Meth trafficker sentenced to 20 years
RELATED NEWS: Woman using Meth guilty after child dies in car
The defendant, who the evidence showed had paid for a haircut earlier in the day with counterfeit money, was supposed to be buying marijuana from the victim. Graceville Police found counterfeit bills in the victim's possession, in the car the defendant fled in and in his home, where they also recovered the .38-caliber pistol used in the shooting.
Based on witnesses and video evidence, Jefcoat said the state's theory pointed toward the defendant using counterfeit money to try to pay for the drugs, the victim noticing the bills were not real as the defendant started to leave, and the defendant reacting by turning back and shooting the victim twice.
"This is a significant case, as any homicide is, but it happened in public in a place where people have a right to feel safe," Jefcoat said. "And it shows that whatever the circumstances, verbal disputes cannot be settled by gunfire and deadly force. And when that happens, justice will be served."
Jefcoat said the evidence gathered by Graceville Police, former State Attorney's Office Investigator Jeremy Pelfrey, and witnesses showed that a co-defendant helped set up a marijuana purchase between the victim and the defendant, who did not know each other.
The victim and friends arrived at the business, with the victim and defendant heading to the restroom for the drug deal. The evidence showed that as they left the restroom, the victim appeared to say something to the defendant, who turned around shot him twice before fleeing in a car driven by the co-defendant.
Basford thanked the Graceville Police Department and other agencies for their work and noted SAO Inv. Pelfrey responded from another county to assist and played a key role in the case.
For more information, contact Mike Cazalas at mike.cazalas@sa14.fl.gov, or call 850-381-7454.