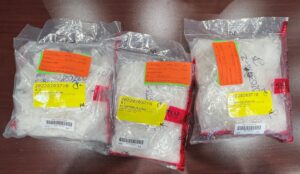 A man convicted last month of transporting about 6 pounds of methamphetamine into Bay County last year has been sentenced to 20 years in prison, State Attorney Larry Basford announced Friday.
Jerry Ray Walker, of Carrollton, Ga., was found guilty of Trafficking Amphetamine (200 grams or more) June 29 and sentenced Friday by Circuit Court Judge Timothy Register. The first 15 years of the sentence are minimum/mandatory.
"We are dealing with a significant amount of meth," Judge Register said before announcing his sentence. "My recall is that it was about 6 pounds."
RELATED NEWS: 2 Life sentences in child sex case
RELATED NEWS: Press Release from guilty verdict in Walker trial
Sullivan showed that Sheriff's investigators got a tip about the incoming methamphetamine in March, 2021, and proved the defendant knew he was transporting a duffle bag full of methamphetamine to Florida along with a co-defendant.
Walker, who was driving, and the co-defendant were stopped by investigators around 1:30 a.m. March 9. A drug-detecting K9 alerted on the vehicle, which led to the discovery of the drugs in a duffle bag.
Basford thanked the Sheriff's Office for its proactive approach that prevented many thousands of doses of meth from hitting the streets, as well as the Florida Department of Law Enforcement for its analysis of the seized drugs.
For more information, contact Mike Cazalas at mike.cazalas@14sa.fl.gov, or call 850-381-7454.