A 6-person jury returned guilty verdicts Thursday against a man charged with rummaging through a vehicle on the Beach and claiming it belonged to a friend, State Attorney Larry Basford announced.
A jury took about 20 minutes to find Bobby Jack Smith, 52, guilty of Burglary, Carrying a Concealed Weapon, and Resisting an Officer without Violence. Circuit Court Judge Timothy Register set sentencing for Dec. 12.
Prosecutor Jae Hee Kim called five witnesses, including Panama City Beach Police Officers Wesley Miller, Sidnie Gulley and Sgt. James Dinse. Miller recorded his encounter with the defendant via his body cam.
The testimony and witnesses proved that the defendant was on Panama City Beach May 4 and witnesses saw him rummaging through a vehicle parked at a condominium. The defendant looked through the Jeep's middle console, glove box and back seat intending to commit a theft but was spotted and walked away.
RELATED NEWS: Campbell sentenced to 35 years in Beach murder
RELATED NEWS: 30-year prison sentence for Methamphetamine trafficker
Panama City Beach police responded to the call and found the defendant nearby. Both his encounter with police and his attempt to steal from the Jeep were captured on video.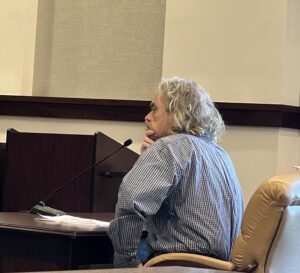 Kim noted that while burglaries are commonly associated with someone "breaking" into a home or vehicle, the actual crime of burglary occurs when someone enters another person's structure, home or vehicle with the intent to commit a theft. In this case, while the Jeep did not have a top, the burglary was committed when the defendant reached into the vehicle and began rummaging through it.
"Everybody has the right to be free of others meddling with their property whether it be a home or a vehicle or other structures," Kim said. "The professionalism of the officers in this case, and Officer Miller's testimony, gave us confidence in this case and that it would be successfully resolved."
Basford thanked the Panama City Beach Police Department for its quick response to the call for help that day and its handling of the situation, as well as their testimony at trial and the citizens who spotted the burglary in progress and called police.
For more information, contact Mike Cazalas at mike.cazalas@sa14.fl.gov, or call 850-381-7454.